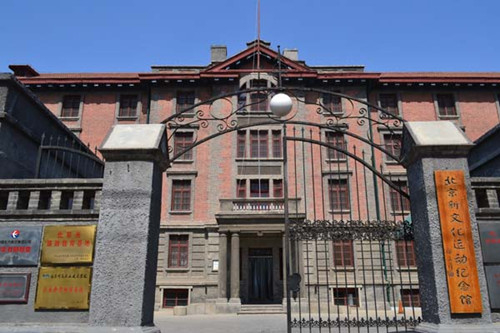 Memorial Hall of New Chinese Cultural Movement is one of the "red tourism" destinations in Beijing. [File photo]
Beijing is the most popular "Red tourism" destination, surpassing Chongqin and Jiangxi, according to ctrip.com, a PRC travel agency.
2015 list of top 10 "Red tourism" destinations by Big Data of ctrip.com places Beijing in first, Xian in second, and Chongqin in third. Nanjing, Wuhan, Changsha, Jiaxing, Nanchang, Jinggangshan and Yanan fall closely behind. In celebration of the 70th anniversary of the victory against Japan, the most popular attractions followed the theme of war. Beijing's hot spots included the Sino-Japanese War Memorial Hall, the Marco Polo Bridge, Wanping town and other sites with Japanese-related themes and scenic attractions.
A number of factors, such as the summer travel season, influenced the rankings.
Now, more and more young people are trying out the "Red Road". Dai Bin, president of the China Tourism Academy, noted that over two-thirds of the tourists participating in Red Tourism are younger than 35, when in the past, middle-aged tourists accounted for the majority.