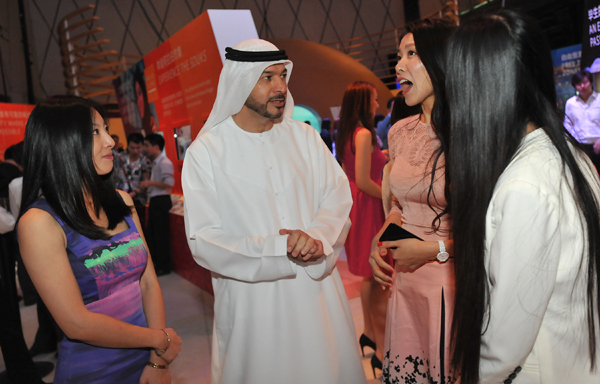 Dubai week introduced the country's culture, food and art to participants in Beijing. Photo provided to China Daily
Dubai week was topped off with a show of the country's culture, food and art in Beijing on May 15.
The biggest publicity event of its kind in China, the week attracted 15,000 participants, including government officials and business leaders.
It was sponsored by the Falcon Group and the Chinese People's Association for Friendship with Foreign Countries and aimed to introduce Dubai to the Chinese.
"Dubai Week is a huge success," says Cong Hongbin, managing director of Falcon.
"We feel a sense of achievement having attracted so many guests and introduce to them Dubai's development potential," he says.
"Dubai Week is an important milestone in the bilateral business trade and culture relations development," says Li Xiaolin, chairman of the Chinese association.
"Businesses on both sides carried out extensive and in-depth dialogue," she says.
The week has paved the way for future cooperation between China and Dubai, Li claims.
The Dubai Week highlighted opportunities for Chinese investors across business, tourism, culture and lifestyle industries in the emirate.