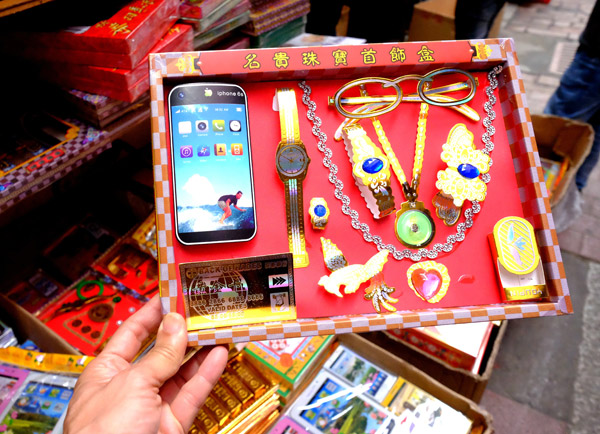 A package of offerings featuring a model of the iPhone6S sells for 10 yuan ($1.6). Zou Zhongpin/China Daily
Although iPhone7 and Samsung Galaxy Note6 have not been launched yet, their paper models are already available in Guangzhou for the deceased.
Qingming Festival, also known as Tomb-Sweeping Day, is a day set aside to pay respects to ancestors, and present them with gifts representing that which gave them pleasure and comfort in life. It falls on April 5, and representations of technological gadgets, including the most up-to-date ones, are on sale alongside the more traditional paper offerings.
A package of Apple's products, including an iPad, iPhone6S, earphones and a charger, sells for 10 yuan ($1.6) at a store that specializes on offerings for the deceased on Chaoxing Street in Guangzhou.
A Samsung package, including pink and a white Galaxy 3 phones, two 4-gigabyte memory cards, a router and an earphone, also costs 10 yuan, a sign perhaps that earthly price competition is also reflected in the afterlife.
"I heard that they are selling Apple's iWatch in Shenzhen but I don't have it here," said Wei, a store owner on Chaoxing Street.
Wireless services are provided by "Underworld Communications Corp".
Huang, a store owner on Guangxiao Road in Guangzhou, is seeing robust sales of new products, often favored more by younger customers.
Older buyers prefer the more traditional incense and candles, she said, adding each of her customers is spending about 200 yuan on average.
Neither are the most modern offerings confined to the communication sector. Producers of bags and cosmetics, resembling products by Louis Vuitton, Burberry and L'Oreal, may be excused, in this instance, for possible infringement on afterlife intellectual property rights. And for those who passed on but liked to travel, planes, cruise liners and chauffeured Mercedes-Benz cars are readily available.
For food lovers, a seafood hotpot, containing an electromagnetic oven, a pot, soy sauce, chili sauce, fish, crab, mutton, mushroom and vegetables, are ready to serve.
For those hoping to improve their health, choices range from deep-sea oil capsules, vitamin tablets, Japanese lingzhi mushrooms to protein powder.
More ordinary items, including clothes for different age brackets, cigarettes, mah-jong, playing cards, perfume, shampoo, condoms, villas, domestic helpers, gold finger rings and pens ensure that all tastes are catered to.
The peak period for sales of these items is between March 20 and 30, with clothes and shoes generating the largest sales, Wei said.
But sales in general have dropped because many public cemeteries have imposed a ban on burning the paper offerings out of environmental concerns, he said.
Wang Zijia contributed to this story.