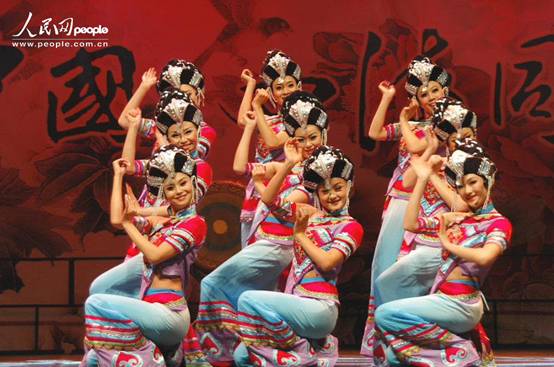 Hani ethnic folk song performers pose in sync.[Photo/People.cn]
A press conference for the Hani ethnic folk song performance in the 2015 Milan EXPO was held on March 26 to announce its status as the in-residence show of the China pavilion.
Marked by spectacular terraces and the extraordinary harmony between people and their environment, the Honghe Hani Rice Terraces has been included in the World Heritage List. The Hani ethnic folk songs reflect the lives of the people that live in Honghe, including the natural environment, ethnic history, farming activities, totemism, social etiquettes and customs.
Hani people sing whenever and wherever they please, their folk songs are regarded as a treasure of Chinese music, displaying distinctive national and regional characteristics.
With an integrated farming system, the culture of the Hani Rice Terraces matches the theme for the China Pavilion — "The Land of Hope". The Hani folk song performance will be performed more than six times a day during the expo.