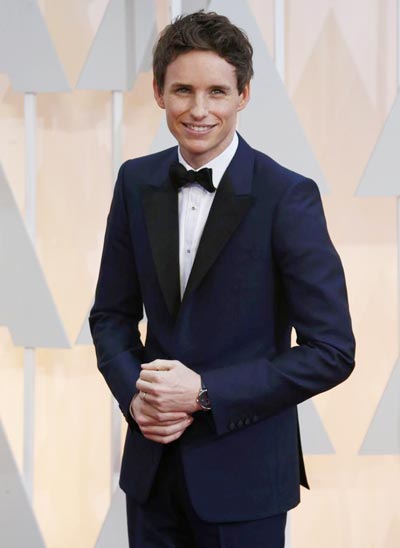 Eddie Redmayne, best actor nominee for his role in "The Theory of Everything," arrives at the 87th Academy Awards in Hollywood, California February 22, 2015. [Photo/Agencies]
Eddie Redmayne won best actor with his painstaking portrayal of physicist Stephen Hawking in "The Theory of Everything", robbing "Birdman" lead and former superhero actor Michael Keaton of a big comeback moment.
Each of the eight best picture nominees went home with at least one award, but it was a disappointing night for "Boyhood," Richard Linklater's unprecedented endeavor to depict the simple story of a boy growing up over 12 years, all with the same actors. It won one Oscar for its six nods.
Wes Anderson's colorful caper, "The Grand Budapest Hotel" proved popular among the 6,100 members of the Academy of Motion Picture Arts and Sciences who vote for the Oscars, winning four awards on its nine nominations.
"Whiplash," the independent film about an aspiring jazz drummer and his tough mentor from young director Damien Chazelle, won three Oscars.