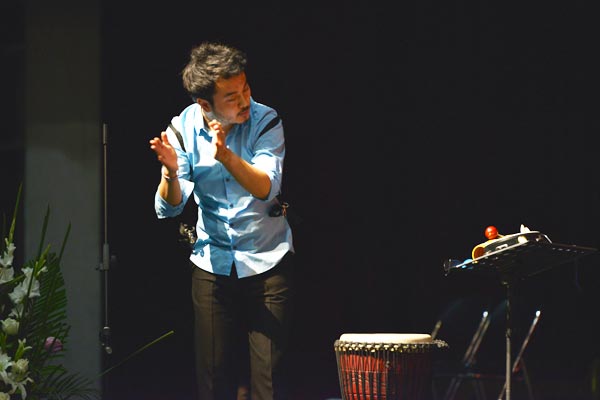 Liu Rui's courses are for children from 3 to 6 years old. He said they can learn to express themselves and work with others through playing the drums. Photo provided to China Daily
"Imagine that you are in a zoo. What does a running horse sound like?" Liu Rui asks.
A group of children 4 to 5 years old immediately knock on the table, giving their interpretation of the galloping animal.
Liu continues, asking children to imitate the chirps of the cuckoo bird. A chaotic "coo-coo" sound follows.
"How about we make the sound again like this," says Liu, adjusting the beat. The children adjust their tempo by clapping their hands.
Welcome the music class of this bearded 30-year-old percussion teacher. Unlike most music classes in China offering training for children whose parents want them to become professional musicians one day, Liu's courses for children from 3 to 6 years old offer a variety of games that nurture them with exposure to simple, pleasant sounds and melodies.
Besides having fun, Liu says that the music class teaches children to express themselves and work with others through playing drums while developing independence, confidence and self-esteem.
"The class is like a miniature of our society, where you learn the importance of keeping order, listening and communicating with others," says Liu, who teaches at the Central Conservatory of Music in Beijing.
But before, Liu himself belonged to the traditional path. He was born in Taiyuan, capital city of Shanxi province, and studied piano and percussion at 6 years old with his father, Liu Xuelin, who has since retired as the principle percussionist in the Singing and Dancing Troupe of Shanxi Province.