Chinese knots and couplets for the first time were on display in a Washington area mall a day after Valentine's Day. It was one small step for the Chinese folk arts, but a giant leap for Chinese New Year in the US retail space.
"We aim to embrace different cultures and different communities and celebrate with them because that's what the center is all about," Becca Willcox, events and communications manager of the Tyson's Corner Center in McLean, Virginia, said on Feb 15 at the mall's concourse ice rink. It was the shopping center's first Chinese New Year celebration, commemorating the Year of the Ram.
Willcox said the center would bring more events to "a plethora of different groups, Chinese included, for they are supporters of the businesses and help boost the economy".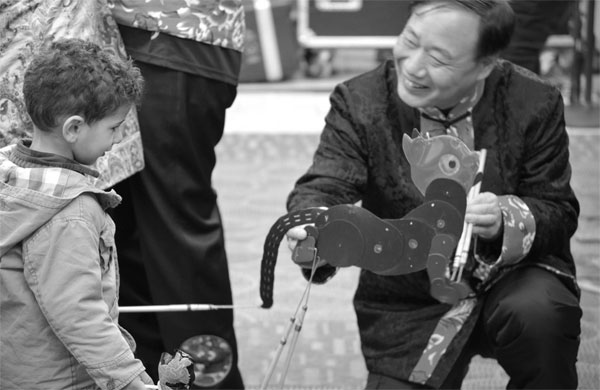 Incelebration of the upcoming Chinese New Year, visiting families make red paper lanterns at the Chinese New Year Family Festival held in Washington on Feb 14 by the Smithsonian American Art Museum at its Robert and Arlene Kogod Courtyard. Liu Chang / China Daily
From noon to 4 pm, the shopping mall featured a variety of traditional Chinese folk arts by both local art troupes and professional performing groups from China. Featured on stage were the lion dance, wooden puppet shows, shadow puppet performance and Chinese folk music.
The ceremony began when the Wong People Chinese lion dance troupe from Johns Hopkins University performed its dance.
Lisa Yang and Yashar Garzan, artists from the Washington Guzheng Society, a nonprofit musical organization, played Spring Overture, Sisters, and Scene of Chang-an on the guzheng, an ancient musical instrument with an 1,800-year history.
A group of 15 from the Shaanxi Folk Arts Troupe performed the traditional northwestern Chinese folk puppet drama, an ancient artwork with more than 2,000 years' history.
Also on display were some traditional Chinese demonstrations and activities, ranging from paper-cutting and Chinese calligraphy to red paper lantern-making and fan-painting.
An estimated 1,000 customers braved the frigid weather to attend the celebration, according to the event's organizers.
Stella Anderson, a staff member at the mall, dressed as a panda doll, the first time she celebrated Chinese New Year like this, drew throngs of children. "It feels wonderful," she said.
Alicia Shen, who settled in the US 15 years ago from Shanghai, took her daughters, Lucia and Yasmine, to the event. "Look, this is Shadow Puppy, a traditional Chinese play," Shen said to Yasmine, 4, pointing to the stage.
"I talk to them in Chinese at home," said Shen, hoping that her US-born children would retain Chinese Mandarin.
"We will fly back to Shanghai in a few days; they will get more chances to practice Chinese."
The Chinese New Year celebration, hosted by the center and the Chinese Embassy, was also a part of the Happy Chinese New Year series, initiated by the Chinese Ministry of Culture in 2010.
Sheng Yang in Washington contributed to this story.