Little New Year (Chinese: Xiaonian), usually a week before the lunar New Year, falls on Feb 11 this year. It is also known as the Festival of the Kitchen God, the deity who oversees the moral character of each household.
There are numerous customs associated with honoring the Kitchen God and determining the date of Little New Year. The date of this holiday was sometimes assigned according to location, with people in northern China celebrating it on the twenty-third day of the twelfth lunar month, and people in southern China celebrating it on the twenty-fourth.
Here are six things you should know about the Little New Year, another sign of the start of spring.
1. Offer sacrifices to Kitchen God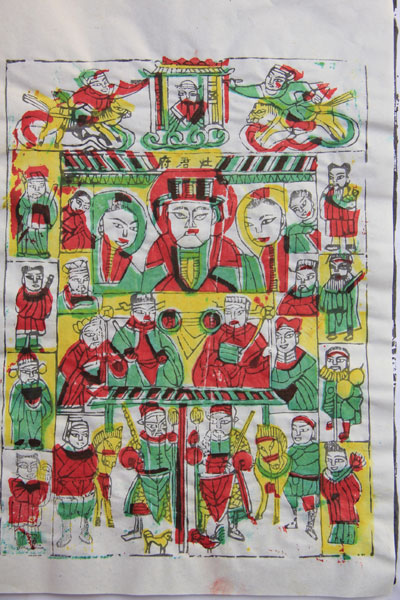 A woodblock painting depicting the Kitchen God is usually hung around the time of the Little New Year. [Photo by Liu Xiaokun/Asianewsphoto]
In one of the most distinctive traditions of the Little New Year is the burning of a paper image of the Kitchen God, dispatching the god's spirit to Heaven to report on the family's conduct over the past year. The Kitchen God is then welcomed back by to the home through the pasting of a new paper image of him beside the stove. From this vantage point, the Kitchen God will oversee and protect the household for another year.