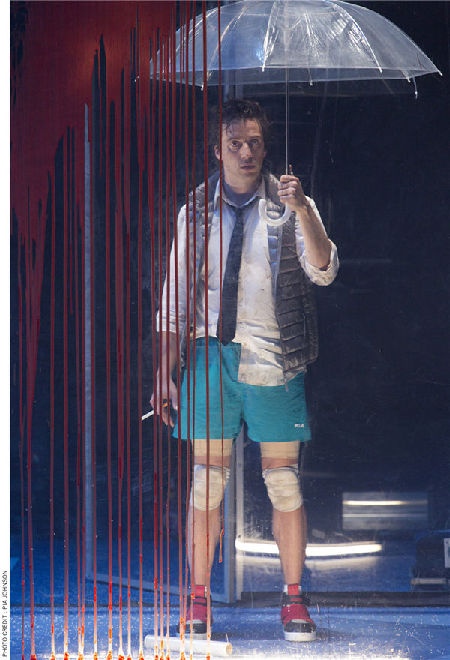 The Good Person of Szechuan, directed by Chinese avant-garde director Meng Jinghui, will run in China from Oct 29. [Photo/China Daily]
A Chinese director pulls together a cast of Australian actors to perform a German play in English. It would attract theatergoers in any of their home countries, and soon audiences in Beijing and Shanghai will get their turn to see it.
The Good Person of Szechuan by Bertolt Brecht, co-produced by Melbourne's Malthouse Theater and Chinese avant-garde director Meng Jinghui, premiered in Melbourne in July and will run at the National Theater of China from Oct 29 to Nov 1, as part of the Beijing International Theater Festival. It will be presented at the Shanghai International Arts Festival on Nov 4 and 5.
Meng, 50, was invited to present his trademark work, Rhinoceros in Love, at the Melbourne International Arts Festival in 2011. Marion Potts, Malthouse Theater's artistic director, was impressed by it and initiated a co-production. Meng saw an exciting challenge in this play, as he had never done Brecht's work.
The gods come down to Earth to find out if there is a good person in Szechuan (Sichuan). It turns out that only Shen Te, the kindhearted prostitute, offers them shelter. The gods give her a reward: a chance to open a small tobacco store. But it seems she cannot survive just by her goodness. She has to develop an alter ego - her pushy male cousin, Shui Ta - to run it efficiently. Then, of course, things get interesting.
Set in the Sichuan of his imagination, Brecht (1898-1956) wrote the story in Finland in 1943 after fleeing Nazi Germany. As a Marxist playwright, Brecht wrote it as an indictment of both fascism and the capitalism he saw that rewarded self-interest and deceit while pure goodness cannot survive.
"Politics, education and entertainment are all part of Brecht's complexity," Meng says, adding that he chose the play because its exploration of good and bad, virtue and vice, exploitation and poverty, is relevant even today.