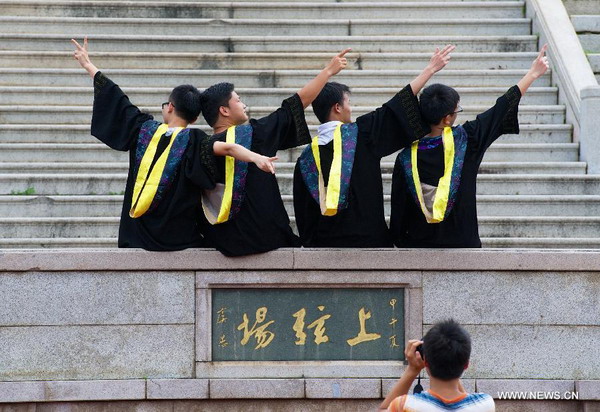 Graduates pose for photo at Xiamen University in Xiamen, southeast China's Fujian Province, June 18, 2014. Some 8,000 students will graduate from the university this year. [Photo/Xinhua]
BEIJING - An online survey published Thursday showed a majority of Chinese oppose college tuition increases and want colleges to reveal their financial situations.
About 76.1 percent of 2,083 survey respondents clearly opposed recent increases in college tuition, according to a report on the survey.
The survey was conducted by the research department of the China Youth Daily, a major newspaper, together with the consulting firm ePanel.
About 78.9 percent of those surveyed had already graduated from college, while 8.1 percent are college students and 56 percent of respondents have college students in their families, according to the report.
In July 2013, China's Ministry of Education lifted a ban on tuition hikes. Since then, a number of provinces, including Shandong, Fujian, Hubei, Guizhou and Guangxi as well as Tianjin municipality, have raised the standard tuition for public colleges.
Earlier this month, East China's Zhejiang province held a public hearing on a policy to increase college tuition by the maximum 15 percent.
Authorities have argued that college tuition had not increased in at least five years and many public colleges are having financial difficulties.