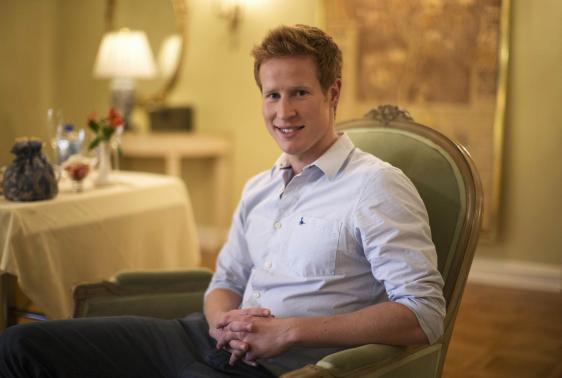 Television personality Matt Hicks poses for a portrait while promoting the upcoming reality television series "I Wanna Marry Harry", in Beverly Hills, California May 2, 2014. [Photo/Agencies]
His quest, over five weeks and a series of dates, is to persuade the girls that he really is the 29-year-old prince, and at the end, to reveal his true identity to the one girl left, and hope that she accepts him for his real self.
"There was a lot of weight on my shoulders, they had put a massive budget on this, but I was never really too worried about not pulling it off," Hicks said. "It was just down to being genuine and charming and getting the girls to like me."
The female contenders for Hicks' affection range between Rose, the saucy 22-year-old pre-school teacher to 25-year-old Karina, studying for a PhD in physical therapy. All have quite an impact on Hicks when he first meets them at a masquerade ball, where they already suspect he may be Harry.
Hicks, who never once calls himself Harry and is referred to throughout the show as "Sir" or "The Gentleman," said he never thought the show's premise was mean or deceiving to the girls, despite him masquerading as the prince.
"They put themselves in this situation," he said. "They're not weak, mentally fragile girls who especially might break down, and at the end of the day we're all there for a laugh."
And as for what the real Prince Harry may think of the show?
"I think he'd think it was quite funny," he said.