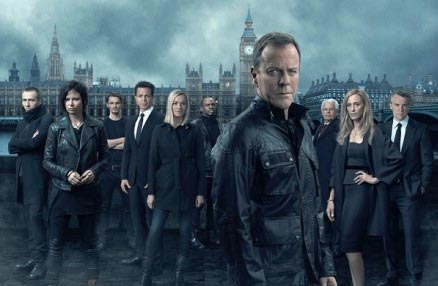 All episodes of the American TV thriller 24 are now available on Youku.com. Photo provided to China Daily
Diehard Chinese fans of 24, the American TV series on security agent Jack Bauer's attempts to negate violent plots against his country, are celebrating the start of a new season.
The ninth and latest season titled 24: Live Another Day returned to the small screen on May 5, local time, in the United States.
China's leading video portal Youku hosted the promotional campaign "24 Hours for 24", during which about 200 fans watched all of Season 8 across three theaters in Beijing, Shanghai and Guangzhou.
The screening lasted for about 24 hours, starting at 5 pm on May 5. Fans then watched the first episode of Season 9.
All episodes of the thriller, produced by Fox network, are now available on Youku.com.
The rejoicing over 24 comes a few days after Chinese video websites stopped streaming four popular American TV shows, including The Big Bang Theory and The Good Wife.
Wei Ming, president of Youku.com, refuses to comment on the decision to stop streaming the shows but says his company will continue to provide quality content to viewers.
Officials of the State Administration of Press, Publication, Radio, Film and Television, China's regulator of the industry, could not be immediately reached for comment.