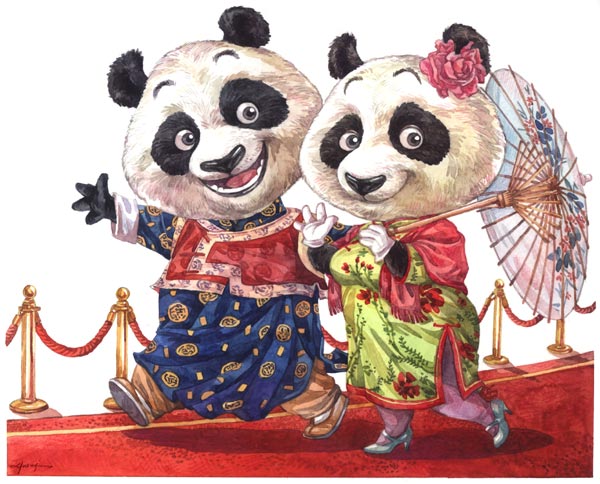 Li Min / For China Daily
Why is the world so enamored with the panda? And what does this portend for China's image? Erik Nilsson finds out.
Pandas are so celebrated that even their poop is valuable. Paper made from panda feces sells for big bucks.
So it's no shock a photo of a panda munching bamboo in an Air China flight's business class seat went viral.
Problem is, it was a hoax.
But the image's instant popularity - and the fact it was created at all - bows to the sky-high prestige of what's perhaps the world's most beloved, and sometimes globetrotting, wild animal and Chinese symbol.
For the actual flight of a pair of pandas from China to Canada last March, FedEx decked out the chartered plane's exterior with images of the creature chomping bamboo and the words "Panda Express". The animals were accompanied by a vet and two attendants, who served them 100 kilograms of bamboo, 150 kg of shoots, 50 kg of apples and 15 kg of water.
That's truly first-class airtime - and not only for the pandas.
"In-flight catering and a comfortable cabin temperature for the pandas should make for an enjoyable journey halfway across the world!" the company posted before the trip on a blog created to associate the brand with the species' celebrity.