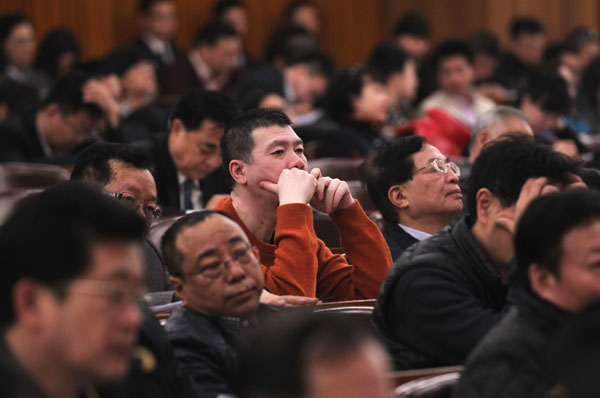 Filmmaker Feng Xiaogang is among the members of the National Committee of the Chinese People's Political Consultative Conference to discuss the changing reading habits in the country. Zou Hong/China Daily
While members of the National Committee of the Chinese People's Political Consultative Conference discussed changing reading habits at the two sessions in March, some of them also gave their book recommendations.
Filmmaker Feng Xiaogang, who made the satirical comedy Personal Tailor last year, suggests reading I'm not Pan Jinlian by Liu Zhenyun, for an absolutely absurd, ironic and engaging satire with a Chinese flavor.
The book covers two surreal petitioning cases: One, a farmer's calculated divorce that went wrong and led to incidental meetings with the country's top leaders; the other is about one shrewd businessman's ingenious way to get home when railway tickets were sold out.  
"It shows how sensitivity gives rise to great creative works," Feng said during a CPPCC panel. "It says so much and I recommend it to everyone." 
Author He Xiangjiu suggests Going Out of the Liang Village by Liang Hong, for those who want to better understand migrant workers.
The 260 million migrant workers are being edged out in both their native villages and the cities they hope to belong in, says He, who interviewed more than 100 of them and proposed more public support for the group.
The book, written like a documentary, follows the various fates of the villagers. Very few, especially the younger generation, intend to return to their rural home. But many struggle to assimilate into city life.
"They become lonely islets, much marginalized," He says. "We should try to understand them. It's the least we can do."
For Chinese art lovers, artist Yan Gongda suggests Wenxin Diaolong (The Literary Mind and the Carving of Dragons) by Liu Xie.
Yan says one should read this 1,500-year-old classic of critical theory to understand why Chinese aren't always trying to be accurate, for example favoring spontaneous freehand over meticulous realism in paintings.
"Chinese don't care about rigid formality that much, and we always add personal touches when we create representations," Yan says. "Finish the book and one will get the nation's aesthetics."