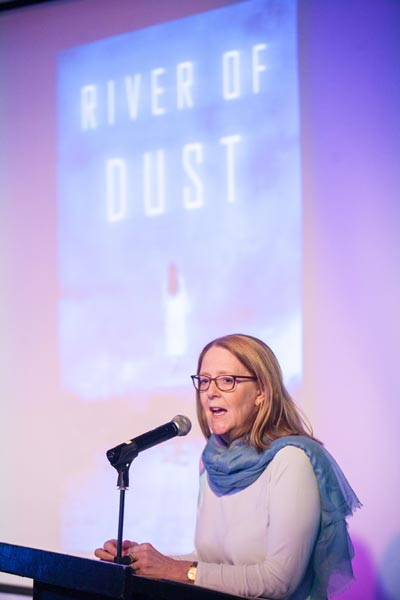 US author Virginia Pye shares with Chinese readers the genesis and inspiration of her latest novel River of Dust at the Shanghai International Literary Festival. Provided to China Daily
A writer from the United States had strong family ties to China but had never been to the mainland herself before writing her book, River of Dust, set in Shanxi province. Matt Hodges reports in Shanghai.
In her debut novel River of Dust, Virginia Pye seems to agree with Pulitzer Prize-winning author Pearl S. Buck on at least one point: The missionaries who came to China in the early 20th century to spread the gospel were not necessarily needed.
Like Buck, Pye's forebears were tasked with converting non-believing Chinese to Christianity.
But Pye's novel, set in northern Shanxi province, is a breezier read than The Good Earth. Using pared-down prose and a simple, old-world vernacular, it questions the validity of religious belief and explores the master-slave relationship, as well as what Pye calls "unarticulated inheritances".
Set a decade after the Boxer Rebellion (1898-1900), River of Dust tells the story of a US missionary - only referred to as "The Reverend" or "Ghost Man" - and his wife Grace as they attempt to find their son who is abducted by Mongolian bandits.
The author drew inspiration from her grandfather's journals and sepia-tinted photographs of the landscape, but the plot is pure fabrication.

"My grandparents would not approve of it, I'm sure. Yet it's my version of our family story," she says.
She explained the genesis of the novel, and how she could write about a distant time and a country she had never visited, at an event hosted by M on the Bund on March 9. This was part of the Shanghai International Literary Festival, which runs until March 21.
The other two main characters in the book are Chinese house servants, although they often come across more like adoptive parents of their foreign wards.
"They're both very eccentric, in their own ways, but they play a very important role in the book because they end up being the ones readers can trust more," Pye says.
Many have found themselves drawn to the no-nonsense nature of Mai Lin, Grace's maid and midwife. The elderly woman proves more than a match for Ahcho, a recent Christian convert, when they verbally spar.