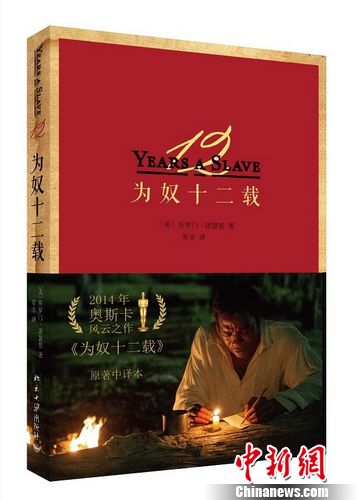 The book cover for the Chinese version of  12 Years a Slave.[Photo/Chinanews]
The slavery drama 12 Years a Slave won the Oscar for best picture at the 86th Academy Awards. Directed by Steve McQueen and produced by Brad Pitt, the film is based on the novel with the same name.
It is said that a film's popularity can lead to strong sales of the original novel. This phenomenon exists especially after the annual Oscar awards are handed out.
According to an AP report, the memoir 12 Years a Slave by Solomon Northup jumped from No. 326 on Amazon.com before Sunday night's Academy Awards ceremony to No 19 by Monday afternoon.
Based on the autobiography of Solomon Northup, 12 Years a Slave tells the story of a freeborn educated African American man in 1841 and how he was kidnapped in New York and sold into slavery where he toiled away for 12 years before finally regaining his freedom.
Written in the year after Northup was freed and published in the wake of Harriet Beecher Stowe's Uncle Tom's Cabin, the story caused great sensations as soon as it hit shelves across America. The book fell into obscurity in later decades, only to be rediscovered in the early 1960's.