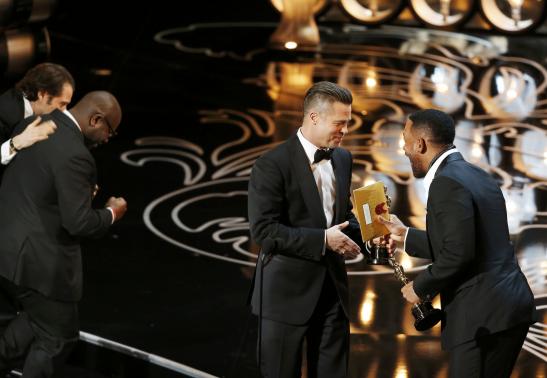 Cast member Brad Pitt (C) accepts the Oscar for best picture from presenter Will Smith as director and producer Steve McQueen (L) take the stage at the 86th Academy Awards in Hollywood, California March 2, 2014. [Photo/Agencies]
Australia's
Cate Blanchett
won the best actress Oscar for her acclaimed role as the socialite unhinged by her husband's financial crimes in
Woody Allen
's "Blue Jasmine."
"As random and subjective as this award is, it means a great deal in a year of, yet again, extraordinary performances by women," said Blanchett, who beat out previous Oscar winners Bullock, Amy Adams, Judi Dench and Meryl Streep.
'AMERICAN HUSTLE,' 'WOLF' FALTER
The big loser of the night was director David O. Russell's 1970s crime caper "American Hustle," which walked away empty-handed despite earning 10 nominations, the same number as "Gravity." Martin Scorsese's tale of financial greed, "The Wolf of Wall Street," also failed to take home Oscars.
But it was also a night of predictable wins for heavy favorites.
The tale of Nordic princesses, "Frozen," won best animated film, a first for Disney Animation Studios since the category was introduced in 2002, and its girl-power anthem "Let It Go" won best original song.
For best foreign language film, Italy took its 11th Oscar in that category with "The Great Beauty," a visually stunning film about life in Rome and a writer in crisis.
Comic and talk show star Ellen DeGeneres returned as Oscar host on Sunday, bringing a deadpan affability, and pizza, to the Academy Awards show while still poking fun at Hollywood royalty.
In her easy breezy style, DeGeneres mixed with the crowd liked she did back in 2007, taking a star-studded selfie with the likes of Brad Pitt and Angelina Jolie that broke the record for retweets on Twitter. And she largely avoided the ribald humor that landed her predecessor Seth MacFarlane in hot water last year.
Kenyan actress Nyong'o was one of the big stars of the night, not only for her winning pale blue Prada gown on the red carpet, but also for her touching speech.