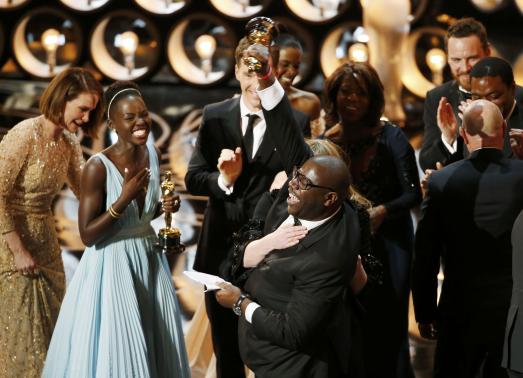 Director and producer Steve McQueen (R) celebrates after accepting the Oscar for best picture with Lupita Nyong'o (L) at the 86th Academy Awards in Hollywood, California March 2, 2014. [Photo/Agencies]
The slavery drama "12 Years a Slave" won the Academy Award for best picture on Sunday, making history as the first
movie
from a black director to win the
film
industry's highest honor in 86 years of the Oscars.
British director Steve McQueen's unflinching portrayal of pre-Civil War American slavery won two other Oscars, including best supporting actress for newcomer Lupita Nyong'o and best adapted screenplay based on the memoir of Solomon Northup, a free man tricked and sold into slavery in Louisiana.
"Everyone deserves not just to survive but to live. This is the most important legacy of Solomon Northup," said McQueen in his acceptance speech.
"12 Years a Slave," prevailed over space thriller "Gravity" from Mexican filmmaker Alfonso Cuaron, which nevertheless racked up the most Oscars of the night with seven, including the best director honor for Cuaron, a first for a Latin American director.
The film starring Sandra Bullock as an astronaut lost in space swept the technical awards like visual effects and cinematography, a reward for its groundbreaking work on conveying space and weightlessness.
Referring to the "transformative" experience he and others undertook in the four-plus years spent making "Gravity," Cuaron, whose hair is graying, said, "For a lot of these people, that transformation was wisdom. For me, it was just the color of my hair."
In one of the strongest years for film in recent memory, the 6,000-plus voters of the Academy of Motion Picture Arts and Sciences scattered golden Oscar statuettes among the many acclaimed movies in contention.
It was a good night for the scrappy, low-budget film "Dallas Buyers Club," a biopic of an early AIDS activist two decades in the making that won three Oscars, including the two male acting awards.
Matthew McConaughey, in a validation of a remarkable career turnaround, won best actor for his portrayal of the homophobe turned AIDS victim turned treatment crusader Ron Woodroof, a role for which he lost 50 pounds (23 kg).
His co-star, Jared Leto, won best supporting actor for his role as Woodroof's unlikely business sidekick, the transgender woman Rayon, for which he also slimmed down drastically.