The Academy of Motion Picture Arts and Sciences handed out the 86th Academy Awards, or Oscars, at Hollywood's Dolby Theatre on Sunday for the best movies, performances, directing, writing and other achievements in film in 2013. Following is a list of winners in leading categories.
Best Picture: 12 Years a Slave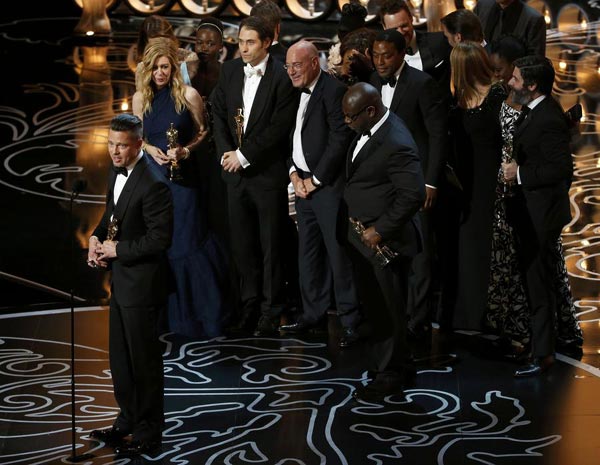 Producer Brad Pitt talks as he and Dede Gardner, Jeremy Kliner, director Steve McQueen and Anthony Katagas accept the Oscar for best picture for "12 Years A Slave" at the 86th Academy Awards in Hollywood, California March 2, 2014. [Photo/Agencies]
The slavery drama "12 Years a Slave" won the best picture Oscar on Sunday, becoming the first film from a black director to win the film industry's top honor in the 86 years of the Academy Awards.
The film from British director Steve McQueen is based on the memoirs of a free black man, Solomon Northup, who is tricked and sold into bondage in Louisiana in an unflinching account of pre-Civil War slavery in America.