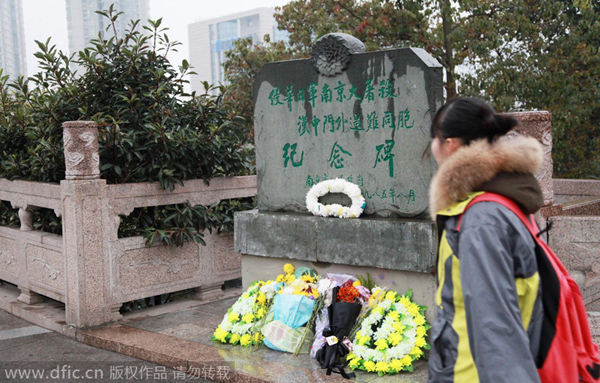 A woman pays tributes to the victims of the Nanjing Massacre in Nanjing, Oct 12, 2014. [Photo/IC]

BEIJING -- A state memorial ceremony will be held in the East China city of Nanjing on Saturday for China's first National Memorial Day for Nanjing Massacre Victims.
Communist Party of China (CPC) and state leaders are scheduled to attend the ceremony, which will be held at the memorial hall for the victims of the Nanjing massacre by Japanese invaders.
The ceremony will be broadcast live by China National Radio (CNR), China Central Television (CCTV) and China Radio International (CRI) as well as the news websites xinhuanet.com, people.com.cn, cntv.cn and china.org.
Japan invaded Northeast China in September 1931, followed by full-scale invasion that started on July 7, 1937. Around 35 million Chinese soldiers and civilians were killed or injured during the Japanese occupation, which continued until 1945.
Japanese troops captured Nanjing, the capital city at the time, and started a bloody campaign on Dec 13, 1937, which lasted for more than 40 days. More than 300,000 Chinese soldiers, who had laid down their arms, and civilians were murdered and about 20,000 women were raped.