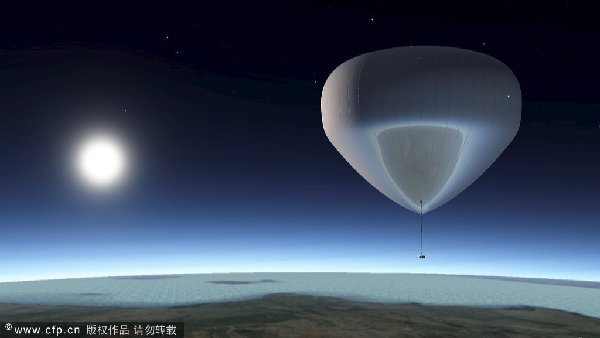 A helium balloon that can reach the Earth's stratosphere will give people the opportunity to become 'space tourists'. [Photo/CFP]

If the World Cup in Brazil fails to woo you as a travel destination, and you have 599,999 yuan ($96,500) to spare, then think out of the box and try space travel.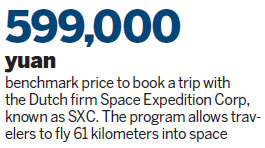 China's wealthy can now book a private trip to outer space - albeit for just five to six minutes - via Taobao.com.
Orders opened on Thursday to book a trip with the Dutch firm Space Expedition Corp, known as SXC, and 305 buyers purchased trips in the first minutes after the registration opened, according to Taobao.
Four entrepreneurs from Chengdu and two from Shanghai are among those who signed up for space travel, said the company, which did not reveal their identities.
"It is exciting that Chinese can enjoy space travel with a click of a mouse. Hopefully it will usher in a new chapter for Chinese to explore outer space," said Zhang Yong, chief executive officer of Dexo Travel, a domestic travel agent that acted as the sole broker for SXC's business in China.
The modules differ in terms of flight length and departure time, according to Taobao. With a benchmark price of 599,999 yuan, the "Pioneer Astronaut" program allows travelers to fly 61 kilometers into space on a Lynx Mark I that is expected to start flying in the fourth quarter of 2015.
Buyers can also sign up for premium travel packages such as the "Founder Astronaut" trip for 1.39 million yuan, or pay 629,999 yuan for the "Future Astronaut" program. Both flights start in 2016 and include a ride on a Lynx Mark II that will take you 103 kilometers above the ground.
Fees include the space travel, as well as a round trip from China to the Mojave Civilian Aerospace Test Center in the United States for the launch.
According to SXC, the spaceship can carry only one astronaut and one tourist, who sits in the co-pilot seat. The craft remains in space for five to six minutes, when the tourist can enjoy a view from space and experience weightlessness.
Prospective travelers should be less than 2 meters tall and weigh no more than 125 kg. They must be over 18 years old and pass compulsory physical exams before the adventure.
Participants are strongly encouraged to receive a week of astronaut training before the trip. The training, which entails flight simulation, fighter plane flying, weightless and overweight experiences, determines whether a person is qualified for such travel.
hewei@chinadaily.com.cn