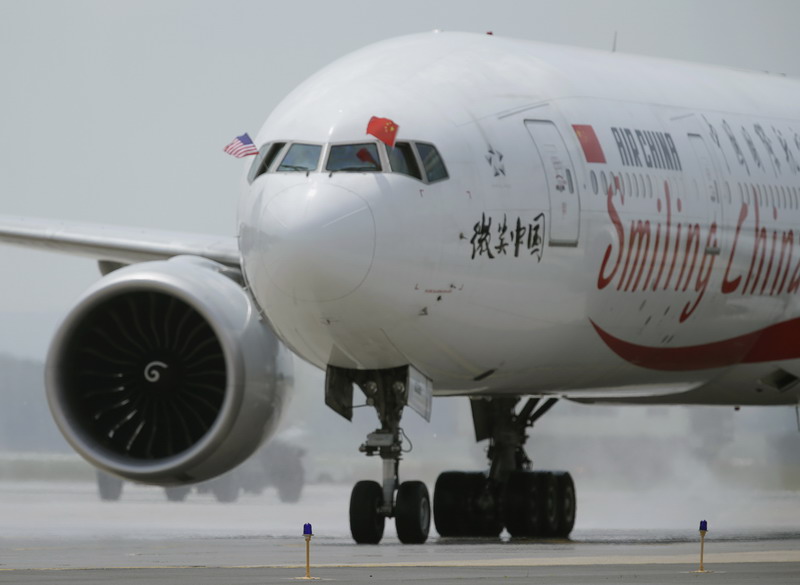 Air China's inaugural flight from Beijing to Washington arrives at Dulles International Airport in Virginia on Tuesday. [Photo/China Daily]
Air China launched its first direct flight linking the capitals of China and the United States on Tuesday in a deal that analysts said reflects huge business potential.
The 13-hour route, which flies four times a week, became Air China's sixth direct route to the US.
"We are pleased to link two of the world's greatest capital cities with our new service, providing greater connectivity to promote bilateral trade, commerce and tourism between our two destinations," said Wang Yinxiang, vice-chairman of Air China.
The new route is definitely the right choice for the Chinese national carrier, as Washington is an important destination for Chinese visitors, said Zhou Shijia, a senior researcher at the Center for US-China Relations at Tsinghua University.
"Beijing-Washington is a golden route," he added. "Opening such a route shows the huge business demand between China and the US."
China-US economic ties can and should be advanced despite rising tensions between the world's two largest economies over issues such as cybersecurity, the South China Sea and the US pivot to the Asia-Pacific region, he said.
United Airlines operates daily flights between the capitals.
US officials also welcomed the new direct route.
"It helps our agriculture, it helps our development, it helps our tourism," said Virginia Governor Terry McAuliffe, who will lead a trade mission to China in October.
China is already the largest customer of Virginia's agricultural and forestry products. China is also one of the state's largest trade partners and a top investor.
Jack Potter, president and CEO of the Metropolitan Washington Airports Authority, said he believes Air China can expand its new route to a daily flight in the future.
But Li Wei, general manager of Air China's Washington office, said the carrier's fleet resources limit the number of flights to one destination.
To keep up with Chinese citizen's enthusiasm for tourism and the flourishing exchanges between the US and China, the airline has dramatically expanded its routes and upgraded its aircraft in recent years. Even so, it is still short of meeting demand.