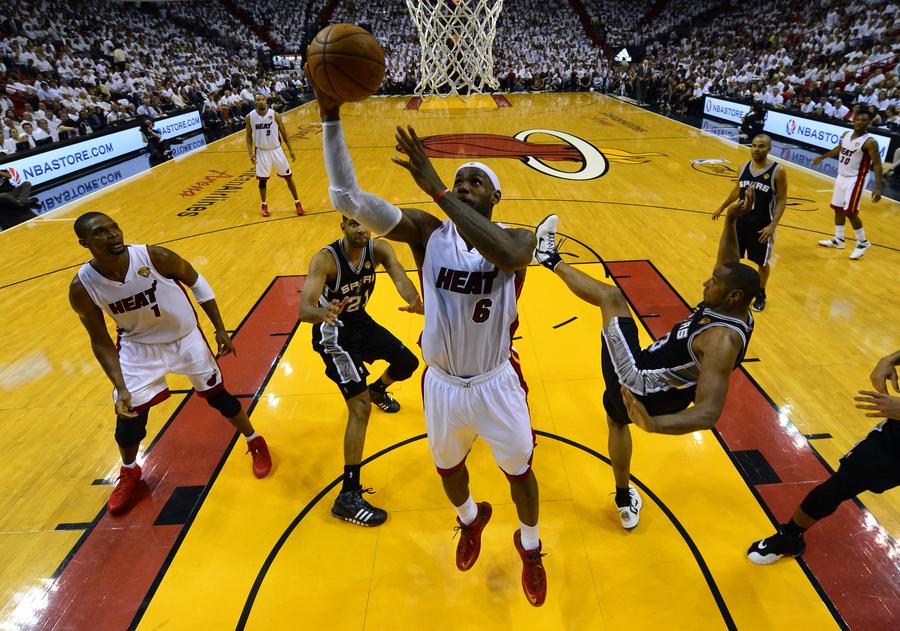 San Antonio Spurs forward Boris Diaw (33) falls as Miami Heat forward LeBron James (6) drives to the basket during the second half of game three of the 2014 NBA Finals at American Airlines Arena, Miami, Florida, June 10, 2014. San Antonio Spurs won 111-92. [Photo/Agencies]
MIAMI - San Antonio made an NBA Finals-record 75.8 percent of their shots in the first half to set up a 111-92 victory over Miami on Tuesday to take a 2-1 series lead.
The Spurs made 19 of their first 21 shots and finished 25 of 33 in the first half, bettering the 75 percent shooting by Orlando against the Los Angeles Lakers in 2009.
"I don't think we'll ever shoot 76 percent in a half ever again," Spurs coach Gregg Popovich said.
Unlike Game 1, when they pulled away in the final minutes, the Spurs were up comfortably before halftime in this one.
Returning to the arena where they were so close to winning a fifth championship last year, the Spurs came out playing like they were trying to build a lead that was impossible to blow.
They shot 13 of 15 and led 41-25 lead after the first quarter, then hit their first six shots of the second in front of a stunned crowd in Miami to go ahead 55-30.
Kawhi Leonard scored a career-high 29 points, sinking 10 of 13. Leonard scored only 18 points in the first two games, looking frustrated while getting into foul trouble trying to defend LeBron James in Game 2. But he had his outside shot working early and the effect on the Spurs' offense was obvious.
Danny Green and Tony Parker each had 15 points for the Spurs.