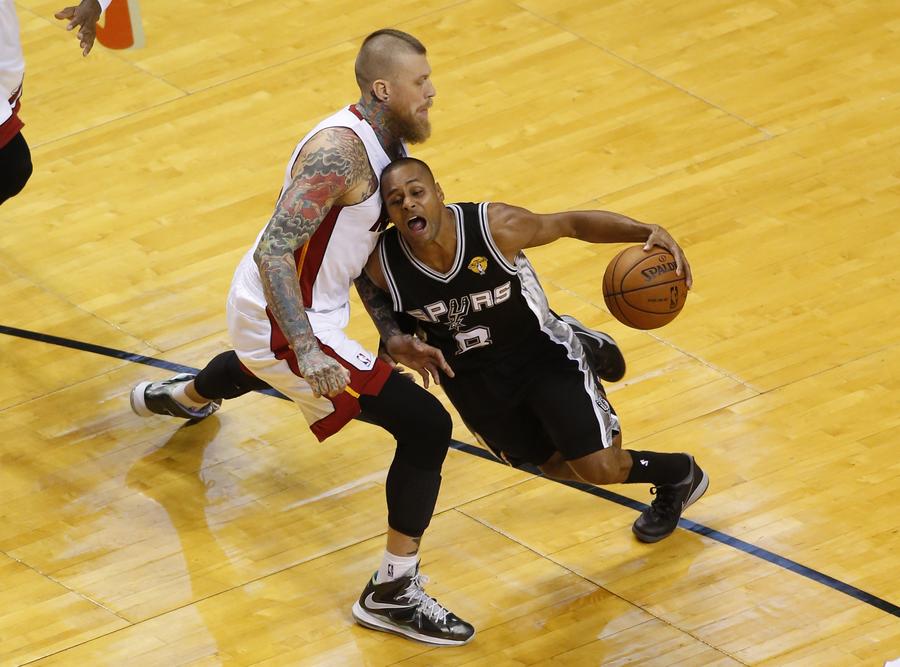 San Antonio Spurs guard Patty Mills (8) makes contact with Miami Heat forward Chris Andersen (11) during the third quarter of game three of the 2014 NBA Finals at American Airlines Arena, Miami, Florida, June 10, 2014. [Photo/Agencies]
James and Dwyane Wade had 22 points each for the Heat, who host Game 4 on Thursday.
Chris Bosh took only four points and scored nine points for the Heat, who for the second straight year will have to overcome a 2-1 finals deficit after being blown out in Game 3.
This rout came on their home floor, where they had been 8-0 this postseason and had won a franchise-record 11 in a row since the Spurs beat them in Game 1 of last year's finals.
San Antonio inserted Boris Diaw into the lineup, countering Miami's small lineup and creating more ball movement. The game got off to a crisp start, with the Spurs making their first five shots and Miami opening 4 for 4.
James had 14 of their first 20 points, but even he could not keep up with the Spurs' pace.
Miami coach Erik Spoelstra said San Antonio "came out at a different gear than what we were playing at, and it just seemed we were on our heels the most part of the first half."
Miami cut it 14 late in the first half, but the Spurs closed with a 9-2 burst to make it 71-50.
The Heat finally got into it in the third, running off 10 straight points to cut a 17-point deficit to 81-74 on a drive by Norris Cole, who had replaced an ineffective Mario Chalmers.
That was as close as Miami would get, as the Spurs pulled away in the fourth.