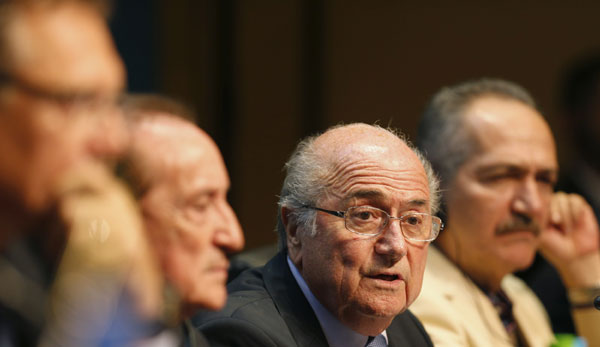 FIFA President Sepp Blatter (2nd R) attends a media conference in Sao Paulo June 5, 2014.
  [Photo/Agencies]
SAO PAULO - On a tough day in his 16-year FIFA presidency, Sepp Blatter even found time to shimmy on stage with a glamorous Brazilian model.
Blatter's shuffling steps with Fernanda Lima, FIFA's favorite big-event host during Tuesday's gala opening of its annual congress, suggested he was care-free just 48 hours before the troubled 2014 World Cup kicks off.
Yet Blatter had seemingly been snubbed by Brazil state president Dilma Rousseff, who skipped the ceremony, and hours earlier was subjected to a ferocious attack on his record by European football leaders.
Senior UEFA officials lined up to openly denounce Blatter's running of the scandal-hit governing body after urging him during a closed-door meeting not to stand for re-election in 2015.
"People link FIFA to corruption and bribery and all kinds of old boys' networks," said Michael van Praag of the Netherlands, revealing he had told Blatter "people tend not to take you very seriously anymore. FIFA has an executive president and that means you are responsible."
Blatter's behavior on Monday finally caused European frustrations - long simmering at seeing UEFA President Michel Platini's potential path to the FIFA throne blocked - to boil over.
On a tour of continental meetings, Blatter had fanned indignation among African and Asian delegates by suggesting recent European media reports alleging corruption linked to Qatar's 2022 World Cup bid was rooted in racism.
Blatter also promised hundreds of thousands of dollars in bonus payments to each country from FIFA's $4 billion-plus World Cup revenues.
The FIFA president intends to cash in Wednesday with widespread support from the congress floor for his expected presidential candidacy.
Europe's collective anger flared Tuesday, perhaps fueled by knowing that Blatter was already backed by five of the six confederations before arriving at UEFA's five-star hotel in downtown Sao Paulo.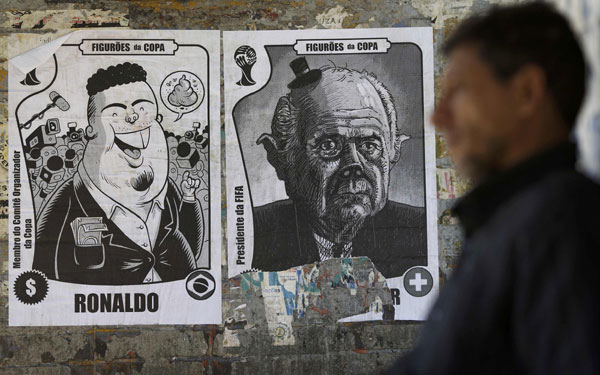 A man walks past posters with caricatures of (L-R) member of the FIFA World Cup 2014 Organizing Committee, former Brazilian soccer player Ronaldo, and FIFA President Sepp Blatter, in Brasilia June 10, 2014.  [Photo/Agencies]
First, they reminded Blatter he promised them in March 2011 that his current four-year term would be his last.
"He said that he changed his mind and every human being is allowed to change his mind," Van Praag said.
England's delegation, led by Football Association President Greg Dyke, revived long-standing friction with Blatter.
"I said to him, `I regard the comments you made about the allegations in the British media in which you described them as racist as totally unacceptable,'" Dyke told reporters.
UEFA board member David Gill said Blatter should go in 2015.
"Personally, yes, I think we need to move on," said the former Manchester United chief executive, comparing FIFA to the International Olympic Committee, which changed its president after the Salt Lake City bidding scandal.
Platini did not meet with reporters Tuesday, though his secretary general, Gianni Infantino, denounced Blatter's description of a "storm" around world football.
"There is not a storm in football. There is a storm in FIFA," Infantino said. "It's something which is coming for years and years and years, and every time it's something else."
The volatile meeting recalled open conflict between Blatter and Europe that flared around his original election in 1998, and his re-election in 2002 during a financial scandal after FIFA's then-World Cup marketing agency collapsed into bankruptcy.
Yet Blatter remains secure in office partly because UEFA comprises only around one-quarter of FIFA votes. European support has not been decisive in a presidential poll since the 1960s.
Globally, there is little desire to change a FIFA system and leadership that delivers booming revenues.
"Rest assured, the 11 members in this room are the first in line" to vote for you, Oceania president David Chung told Blatter on Tuesday.
Football politics - on which Blatter clearly thrives - deflected attention away from the expected problems with Brazil's tournament hosting.
On Tuesday, a five-day subway workers' strike ended in Sao Paulo though further stoppages are threatened Thursday, when Brazil plays Croatia in the tournament's opening match, if sacked union leaders are not reinstated.
"What is uniting us today and tomorrow and in the next month is the love of this beautiful game," Blatter said Tuesday, without reference to the host nation's problems and $11 billion-plus bill which has roused widespread public anger
Linking himself to the absent Rousseff, Blatter insisted: "Together we have said this World Cup shall be a great event, not only for Brazil but for the world."