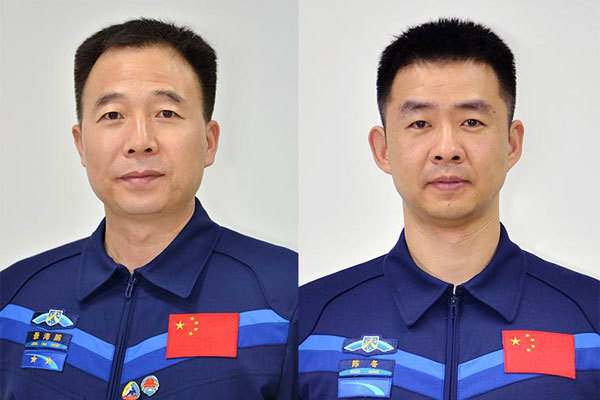 Astronaut Jing Haipeng (left) and Chen Dong are captured in photos with new suits. [Photo/www.81.cn]
China launched the Shenzhou XI manned spacecraft on Monday, sending two astronauts to the Tiangong II space laboratory - another step towards becoming one of the leading players in global space technology.
On Sunday morning, one day ahead of the launch, the two astronauts, 49-year-old Jing Haipeng and 37-year-old Chen Dong, met reporters during a news briefing at the Jiuquan Satellite Launch Center. In addition to their space mission, the new astronaut suits they wore were also in the limelight.
The new uniforms, worn by astronauts while working on Earth, features different shades of navy blue - inspired by the color of the skyline and space, according to the the Astronaut Center of China's spacesuit laboratory. The V-shaped pattern on the chest carries an auspicious meaning of "victory" in each mission.
Astronaut logo, name badge and honor badge are placed on the right side of the uniforms, while national flag and space mission emblems are placed on the left side.
Jing Haipeng, who completed Shenzhou VII mission in 2008 and Shenzhou IX mission in 2012, wears mission emblems on his suit and two pentagrams on his honor badge.
The suits are among the newly unveiled autumn and winter series for astronauts, using thick woolen fabric to maintain warmth. Others include outdoor training suits and winter coats, as well as summer suits.
Since May 2015, China's Astronaut Center has begun to design astronauts' attire, including on-orbit suits, on-ground suits and accessories.