Ethnic groups look to raise living standards, preserve cultures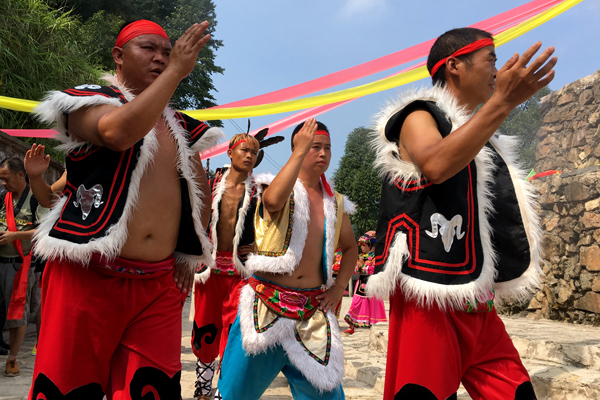 Members of the Qiang ethnic group perform a traditional dance in Qishuping village, Guizhou province. [Photo by Long Chao/China Daily]
Leaders of China's minorities are hoping government support will help save their traditions and languages.
Two decades ago, Hu Zhengyong inherited the prestigious position as head of Qishuping, a "fortress" village of the Qiang ethic group, from his father.
In his 20-year tenure, Hu's role has changed beyond recognition. "My father had a say in the affairs of everybody in our 'big family', but my main responsibility is to call people back when a gathering is required," said the 47-year-old, whose village is located in Taoying, a township in Tongren, a prefecture-level city in Guizhou province.
Most young and middle-aged people have left the ancient mountain village, the only Qiang settlement in the southwestern province, leaving just a few seniors to tend the low-quality farmland scattered across the mountainous region.
Hu has many reasons to be concerned that the bonds which keep the "family" together will gradually fade.
"It's becoming increasingly difficult to call people back. For some, one day spent traveling back to the village means one day that could have been better spent making money," said Hu, who runs three restaurants in Tongren's urban area.
The outflow of young people will also make it difficult to preserve the cultural identity of the Qiang people, who are pantheists and worship a number of local gods, according to Hu.
The village is just one of many settlements inhabited by minority groups in Guizhou, and the exodus of the younger generation is presenting challenges for all of them - not least in preserving their centuries-old cultural identities.
The province is home to eight ethnic groups whose populations each number less than 50,000 people. Most of them battle to survive in the harsh natural conditions, and they also struggle in terms of social and economic development, according to the Guizhou Commission for Ethnic and Religious Affairs.
Zhang Yuguang, deputy head of the bureau of ethnic and religious affairs in Kaili, a county-level city, said minority groups with small populations are facing the potential loss of their ethnic languages, which are key aspects of their identity.
As a result of the rising popularity of urban lifestyles and the growing use of the internet, very few members of the Mulao group in Kaili age 60 or younger can speak their own language, according to Zhang.
"From the perspective of the authorities, we cannot save a language from dying if few people can speak it anymore," he said, adding that the provincial government should make greater efforts to help preserve the cultural identities of ethnic groups.
"The government should give people from minority groups more encouragement to speak their own languages, such as including their languages in the entrance exams for the civil service," he said.