Life expectancy in Shanghai tops 83 years
The average life expectancy in Shanghai reached more than 83 years in 2016, far higher than the national average of 76.3 in 2015 and close to the world's highest of 83.7 in Japan and 83.4 in Switzerland.
Public health standards in the city have been maintained at the advanced level of developed countries and regions for 13 consecutive years, the Shanghai Municipal Government's Information Office said when releasing the figures on Monday.
Life expectancies for men and women climbed to 80.83 years and 85.61 years respectively last year, an increase of 0.36 years and 0.52 years year-on-year.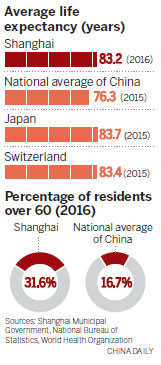 By the end of last year, the number of Shanghai residents age 60 or older hit 4.58 million, accounting for 31.6 percent of the city's population. Nationally, the proportion was 16.7 percent at the end of last year.
Shanghai was the first Chinese city to have an advanced aging population. The city has nearly 800,000 residents aged 80 or older, and nearly 2,000 residents aged 100 or older.
Although a recent survey found that the majority of senior residents hope to spend their twilight years at home, experts say the elderly have become more open to a variety of care services.
More than 60 percent of the respondents in the survey, which polled 1,110 residents aged 60 or older in Shanghai, said they would like to receive care services at home. More than 11 percent of them said they would like to go to nursing homes, while the rest said they don't have a preference.
The survey, conducted by the Shanghai Research Center on Aging and Shanghai Jiao Tong University's Public Opinion Research Center, was released on Monday.
"Family care for senior citizens faces challenges as the size of families living together decreases and professional social care for the elderly continues to develop," said Yin Zhigang, director of the Shanghai Research Center on Aging.
The number of beds in Shanghai's 700 nursing homes totals more than 130,000, including nearly 10,000 that were newly added last year, according to the Shanghai Civil Affairs Bureau.
Two years ago, the city introduced care homes for the elderly, a novel exploration in providing short-term stay or day care services. The number of such facilities targeting senior citizens in local communities and giving priority to those who have lost the ability to take care of themselves now totals 73.