Elderly services to address aging population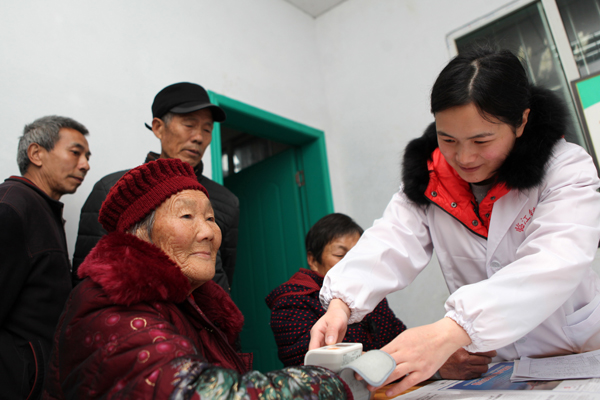 A nurse at a public clinic in Chongqing gives a senior a free health checkup. About 4,600 people over 65 are expected to enjoy the benefits of the team by mid-April. [Photo by Chen Shichuan/For China Daily]
Development plan aims to improve pension and healthcare systems
China's targets for elderly care services in the nation's top development plan show how determined the government is to tackle the challenges of an aging population, according to officials.
Zhu Yaoyin, deputy director of the general office of the National Working Commission on Aging, said the incorporation of improving elderly care services in the nation's development road map is part of the top leadership's key measures for addressing an aging population.
A group of officials from various government departments that influence the quality of services for seniors gathered on Tuesday to explain what benefits the 13th Five-Year Plan (2016-20) may bring for the public.
Last year, 230 million Chinese, or 16.7 percent of the population, were over 60 years old. Currently, the ratio between working age people - 16 to 60 - and the retired population is 2.8-to-1. That is expected to drop to 1.33-to-1 by 2050, according to Jia Jiang, deputy director of pension insurance for the Ministry of Human Resources and Social Security.
The plan states that private capital and nongovernment organizations will have more access to the elderly care services market, so that seniors have more options of diverse services. The number of beds for the elderly in public hospitals and care agencies is expected to account for no more than 50 percent of the total by 2020.
Currently, private-owned elderly care institutions account for about 40 percent of the total nationwide, with the proportion exceeding 50 percent in some provinces.
Pension and healthcare systems will be improved, with 90 percent of urban and rural residents enjoying basic pension insurance, and 95 percent of citizens being covered by basic health insurance, according to the plan.
Hospitals should improve rehabilitation services and step up the fight against old-age diseases, the plan said, adding that by 2020, more than 35 percent of middle and top-tier hospitals will have geriatric care departments.
Meng Zhiqiang, deputy director of social welfare and philanthropy promotion for the Ministry of Civil Affairs, said that despite ongoing efforts to invite more private capital into the elderly care services sector, the move has not met the expectation.
Meng said one problem is that administrative approval procedures are complicated and lengthy, and that the threshold for private elderly care agencies remains high.
Meng said the government will continue working under the guidance of the latest five-year plan to make it easier for entrepreneurs to enter the elderly care services market.
Cai Fei, deputy director of family development at the National Health and Family Planning Commission, said nearly 150 million seniors in China suffer from long-term diseases, while more than 40 million seniors are affected by deteriorating mental or physical health.
According to official estimates, by 2020, the number of seniors living on their own will reach 118 million.