Devoted son cares for forgetful mother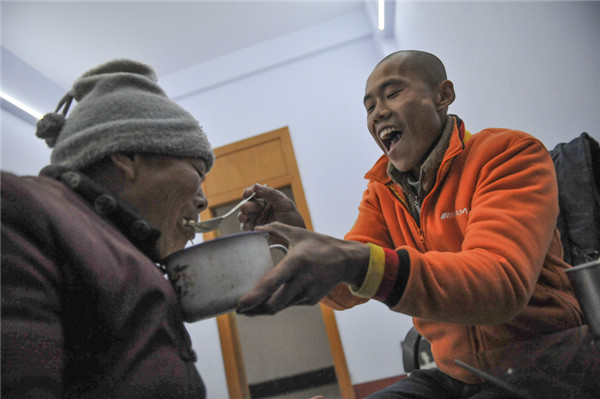 Min Xianjie feed his mother breakfast in Rizhao, Shandong province, March 8, 2017. [Photo/VCG]
Min Xianjie has been caring for his mother for more than six years.
The 29-year-old from Beishangzhuang village in Rizhao, Shandong province, helps her search for his older brother, who left home in 2006 and never returned.
Min's mother has dementia, meaning she often gets lost and is unable to care for herself.
One time, while out searching for her eldest son, she was knocked down by a car and had to spend a month in hospital recovering.
Min's father died in 2010, so the son has had to care for his mother ever since — even taking her to work with him. Whenever they move and wherever they go, the first thing they do is look for his older brother.
Eventually, Min found a car-washing job at an auto maintenance school in Rizhao, where he can earn money while learning a trade. Moved by his story, the head of the school offered Min and his mother a 20-square meter dorm, where they both now live.