Helping women find their inner man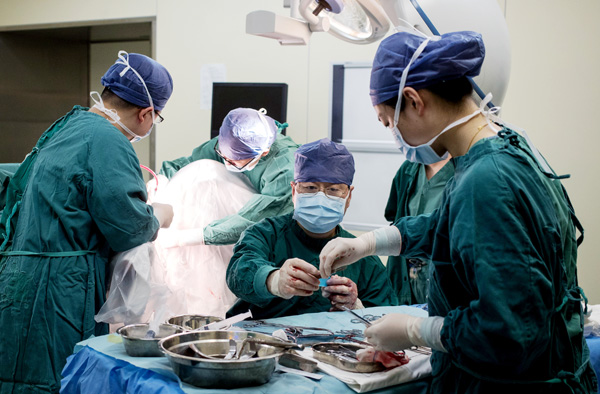 Doctor Zhao Yede (second from right) performs a female-to-male gender reassignment surgery at the Shanghai 411 Hospital.Photos By Gao Erqiang / China Daily
Shanghai doctor specializes in female-to-male sex change surgeries
Doctor Zhao Yede has performed gender reassignment surgery on nearly 1,000 patients since he began practicing medicine in 1992.
The 52-year-old native of East China's Zhejiang province has operated on patients ranging in age from 18 to 59 who came from every corner of China, except the Xinjiang Uygur autonomous region. They have included police officers, photographers, truck drivers and students.
About 90 percent of Zhao's patients are women who want to become men, as he is renowned in the profession for his abilities.
"It's like building a high rise without a foundation," he said.
According to Zhao, it takes at least three surgeries for a woman to transition into a man, triple the number for a transgender woman. This is reflected in the price - at the Shanghai 411 Hospital Zhao works at, it costs 80,000 ($11,600) to 100,000 yuan for a woman to become a man, but 30,000 to 50,000 yuan for a man to transition into a woman.
One of the major innovations Zhao and his mentor, He Qinglian, made was using skin from the patient's inner thigh to create the penis, which leaves minimal scarring. Other surgeons often use skin from the patient's stomach or forearm.
"If I have any advantage, it is the massive number of patients I have treated and the trust they have bestowed in me," Zhao said.
The doctor is highly selective of his patients and has only performed surgery on about 10 percent of those who requested it.
Chinese Health regulations stipulate that candidates for gender reassignment must have no criminal convictions and should provide a letter of consent from family members, as well as a certificate from a psychiatrist.
But Zhao goes further, asking each would-be patient a number of probing questions before deciding whether he should operate on them.
He does so to avoid a repeat of the time when a patient returned, months after surgery, and wanted their gender changed back.
Zhao first became interested in gender reassignment while working as a resident at a hospital in Beijing, assisting its director in replying to letters from patients.
The hospital had been inundated with requests for gender reassignment after a surgery that was carried out there was widely reported in the media.
So Zhao did some research and decided to move to Shanghai to learn from He, who is best known for performing China's first female-to-male gender reassignment surgery in 1992.
One of Zhao's patients, who spoke on condition of anonymity, said both doctors were household names among the transgender community.
The 18-year-old, who has transitioned into a man, said he had been driving without a license because he did not want to apply for one until he had changed genders.
College students make up the majority of Zhao's patients and a growing number are choosing to get their gender changed before graduation, as a diploma is the only official document in China that cannot be changed once it is issued.
It means the doctor is incredibly busy at this time of the year - several months before graduation season - with enough time left for recovery.when students can undergo surgery and still have enough time to recover before their ceremony.
At their busiest, he and his team sometimes had to perform five surgeries in a single day.
"Attitudes are changing toward transgender people. The public, and parents, are becoming more open to the idea," he said, adding that Chinese parents are more likely to accept their daughters becoming sons in his experience.
Despite his success, Zhao does not want his teenage son to follow in his footsteps.
"It's easy to be a doctor. But being a good doctor takes lifelong commitment. It's too difficult a job," he said.