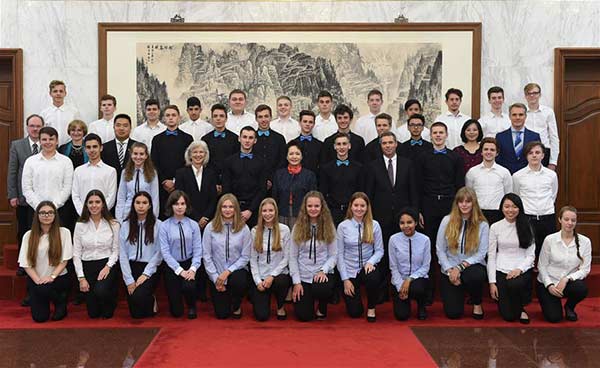 Peng Liyuan (C, 2nd row), Chinese President Xi Jinping's wife, poses for a family photo with a group of German high school students and teachers as she holds an audience with them at the Diaoyutai State Guesthouse, in Beijing, capital of China, Oct. 19, 2016. [Photo/Xinhua]


18-year-old volunteer came to teach English in rural Guangxi region

Inspired by hearing First Lady Peng Liyuan mentioning the "Chinese dream" two years ago, German graduate Maximilian Volges came to South China's Guangxi Zhuang autonomous region as a volunteer to teach English to rural students early this year.
"You told us that your Chinese dream is to let all children, especially girls, have access to good education," Volges told Peng in Chinese at the Diaoyutai State Guesthouse in Beijing on Wednesday.
"I was deeply influenced by your 'Chinese dream', so I came to China to teach English voluntarily in Guilin," said Volges, whose Chinese name is Kong Hao.
The 18-year-old high school graduate met a delegation of students and teachers from the Burg-Gymnasium (High School) in Essen, his alma mater. In March 2014, Peng visited the school and attended a Chinese language class during President Xi Jinping's state visit to Germany.
Peng spoke highly of the German volunteer's contribution to China's rural education.
"A year later, you will feel the seed of China-Germany friendship that you sowed in the students' hearts will blossom beautifully," Peng told the volunteer.
The German students are paying an 11-day visit to China on the invitation of Hanban, the Confucius Institute Headquarters. They have traveled to the Three Gorges Dam, Wuhan University and the Forbidden City.
During the meeting, the students also performed traditional Chinese folk music, including a song originating from Peng's home in Shandong province.
"You have performed the Canzonet of Yimeng Mountain really professionally," said Peng, who is a renowned singer of traditional Chinese folk music.
Saying that there are currently 18 Confucius Institutes and three Confucius classes in Germany, Peng added that China-Germany people-to-people exchanges are booming.
Maria Charlotte Petra Schnell-Kloppel, president of the high school, said that the meeting with Peng was "unforgettable", and will boost Germany-China friendship.
"As teachers, we hope to contribute to communications between young people in China and Germany," she said.