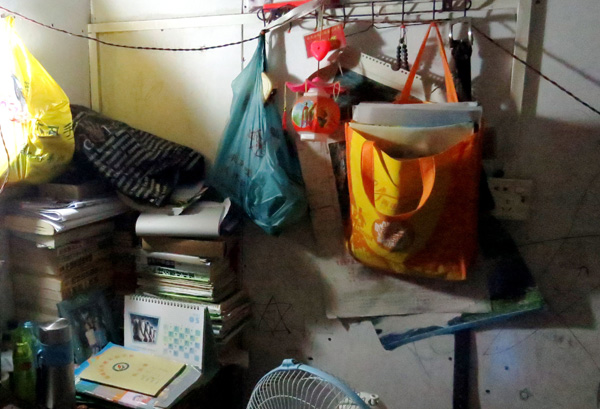 A corner at Yin's home in Tuhua village in Guangzhou, Guangdong province, where the boy studies, before being renovated by Guangzhou Qichuang Social Work Service Center. [Photo by Zhong Yongshi and Chen Youzi/For China Daily]
Home renovation program aims to give young students a place to read and do homework
A 12-year-old boy, surnamed Yin, used to do his homework bent over a low table in the 30-square-meter home he shares with his mother, older brother and sister in Tuhua village in Guangzhou, Guangdong province.
Every other surface was covered with books and bric-a-brac.
"My mother and I even sleep in the same bed. There is no place to put a desk," he said.
All that changed in early September, when a study corner equipped with a new desk, chair, bookshelf and lamp was installed ready for Yin's first year of junior high school.
"I like it. Now I have a place of my own to study," he said.
Yin is one of six students to have benefited from a project initiated by Guangzhou Qichuang Social Work Service Center, which renovates disadvantaged children's study areas in the city's Haizhu district free of charge. Each renovation costs about 4,000 yuan ($600), with all the money donated by corporate foundations and individuals, according to Zhong Yongshi, deputy director of Qichuang's department for youth.
A design firm and construction company have even offered to do some of the work for free.
The new study areas not only alter the way a family's living space looks, but also "help the children build their dreams", Zhong said.
Although Yin's brother and sister only graduated from high school, their mother still takes pride in their academic achievements and has hung every certificate they have received since 2005 on the wall, to encourage all her children to study hard.
"In social work, we have a concept called 'person-in-environment'. A dedicated area improves the studying atmosphere and helps a child be more devoted to their studies," said Gu Jiangxia, a professor with Guangdong University of Finance and Economics' department of social work.
Another boy, surnamed Huang, 14, cherishes his new study corner so much that he does not even allow his father, a construction worker from Jiangxi province, to use his new desk and chair - despite the fact they are right beside his parents' bed, said Liu Cuimei, his mother.
His school teachers and social workers thought that he might have a speech impediment, according to his mother. But it has improved since he started to have regular visits from a social worker, she said.
"My son talks very little, but he becomes excited and happy when we tell him social workers are visiting us," she said.
Liu added that the partial renovations to their 20-square-meter apartment in Jianbei village, which included free storage shelves and boxes, had encouraged her to keep the place tidier than before. The apartment is in a seven-story building surrounded by narrow alleyways, webs of electricity wires and unsanitary conditions.
"Some of the families did not care much about their living environment before the project. We told the parents the project is not only meant to create a comfortable study space, but also to encourage them to take action," Zhong said.
"Home does not mean merely a place for the children to sleep after work, but also a place to live."
Professor Gu said that tidying a home can have a positive psychological affect on its occupants, improving both familial relations and parent-child bonding.
Qichuang plans to help 14 more families with the project, but needs additional donations for the design and construction work.
"We then hope to carry on the project to help more families," Zhong said.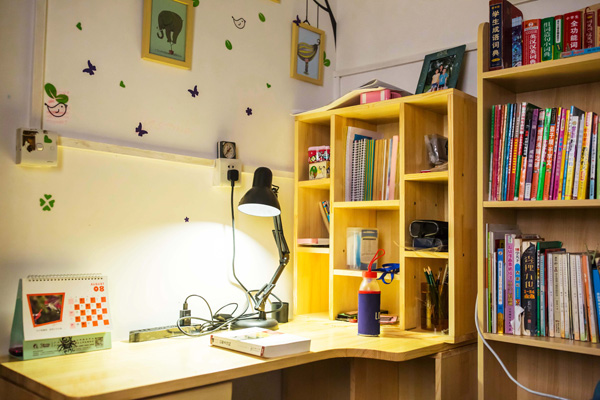 A corner at Yin's home in Tuhua village in Guangzhou, Guangdong province, where the boy studies, after being renovated by Guangzhou Qichuang Social Work Service Center. [Photo by Zhong Yongshi and Chen Youzi/For China Daily]