Lyu Ping, 40, a senior administrative affairs official at a college in Shanghai, has sent her 12-year-old son on visits to the United Kingdom and Japan this year.
I never indulge my son because I want him to be independent and internationally minded. In January, I sent him to London for a 12-day drama course. He told me he visited a number of famous places related to drama, including Shakespeare's birthplace in Stratford-upon-Avon and the BBC, to learn about the history and development of drama.
He found the trip useful and interesting. We were both so pleased that I helped him register for a seven-day visit to Japan in August. During that trip, he learned how Japanese government, businesses and factories operate.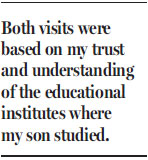 Both visits were based on my trust and understanding of the educational institutions where my son studied. I did a lot of research, not only into their academic reputations, but also previous similar overseas projects they had organized.
My son has studied at educational institutions overseas for a couple of years, so I also know a lot about the teachers who lead the groups.
I didn't sign contracts with the institutions. Instead, I signed contracts with the travel agencies involved and spoke with the teachers about the specific arrangements for the trips.
Of course, children's safety overseas is key, but I told my son not to contact me via phone calls or WeChat (a popular instant-messaging platform) every day.
As the old saying goes, "When in Rome, do as the Romans do", so I encouraged him to solve difficulties on his own in London and Japan, and try to adapt to the different cultures and customs, such as food and lodgings.
Now that he has left home several times, he must learn to be more independent and improve his social skills, otherwise these overseas visits will be meaningless.
I disagree with those parents who bugged the travel agencies, schools or institutions many times every day to see whether their children were eating enough and also what they ate. Children won't grow up if we refuse to leave them alone.
My son is 12, and he will graduate from primary school next year. It's time for children of his age to learn how to tackle affairs on their own, so I seized the opportunity to send him overseas to cultivate his independence and broaden his horizons.
If we are offered another chance, I will encourage him to see more of the world and meet companions of his own age, no matter whether it's for long-term study or a short visit.