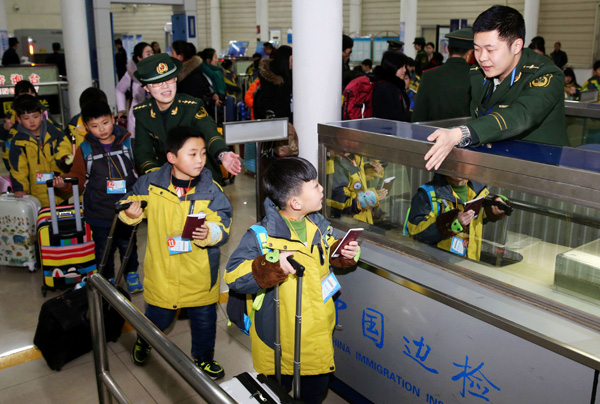 A tour group of primary students pass a border port in Rizhao, Shandong province, before they head for a study tour in South Korea during the winter vacation in January. [Photo/VCG]
The rise in the number of children participating in study tours abroad is leading to conflicts between parents and organizers. Cao Yin reports.
Parents are being urged to ensure that they sign contracts and take time to study all the relevant information before allowing their children to take study tours overseas.
The warnings come after a number of schools and education institutions were sued by parents dissatisfied with the services provided, the subjects taught and the food and accommodations on offer.
China's economic development has resulted in rising living standards and incomes, leading a growing number of Chinese to head overseas to study.
Last year, 523,700 Chinese citizens studied at undergraduate level overseas, compared with 339,700 in 2011, according to statistics provided by the Ministry of Education. Meanwhile, a wide range of programs, such as summer camps and non-degree study trips, are becoming increasingly popular.
For most students, the trips offer an opportunity to study in a new environment and develop social skills. Most pass off without incident, but some parents have sued organizers for not providing the services promised, or because food and accommodations failed to meet specified standards.
A family from Beijing recently sued a private middle school after their 13-year-old son returned early from a 10-month study tour to the United States.
"We hoped a trip to the US would help broaden his horizons and experience, so we allowed him to participate in a study tour organized by the school. But when he told us about the food and lodgings in the US, we weren't satisfied," said the family, who preferred not to name the boy or the school.
"We paid 330,000 yuan ($49,500), but we never thought the daily food allowance would be just $3.33 and he would have to share a room with 10 other students. We couldn't accept that, so we allowed him to come home early, and then sued the school."
However, the dispute wasn't resolved as easily as the family had hoped. "They didn't sign a formal contract with the school. In other words, they had no evidence to prove the organizers didn't deliver what they had promised," said Yang Lu, the judge who heard the case at Beijing No 3 Intermediate People's Court.
"The number of similar disputes between families and study tour organizers, including schools, is rising," she said, adding that four cases have been lodged with her court alone since the summer vacation.
On July 15, Yang ordered the school to return 240,000 yuan of the tour fee.
"The parents were unhappy with the verdict - they thought all their money should have been refunded - but it was actually a good result because both parties were at fault," she said.
The court rejected the school's claim that it had provided basic information and contracts before the tour began. "The documents were far from official and were unacceptable as evidence in court," Yang said.
The school also said parents had been informed that living costs were not high as had been expected, and the boy had left because he was unable to adapt to life in the US, she added.
However, the parents were also culpable, because they failed to read the information provided before the visit, "let alone do some homework, such as learning about the regulations that protect children."