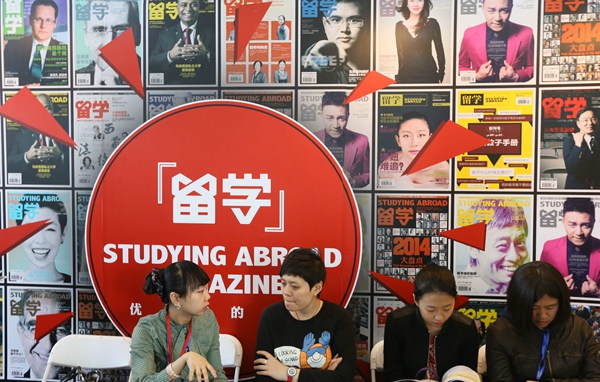 The 20th China International Educational Exhibition Tour is held in Beijing in March last year. Parents and children who want to study overseas meet face to face with the staff. A Qing / For China Daily
Emily Chen's experiences at a private boarding school in the United States have had nothing but positive results. It has been the opposite for some other young Chinese children attending US middle schools, spurring negative headlines and creating a stereotype of "rich, idle and reckless", Chang Jun reports in San Francisco.
When three years ago Herald Chen decided to send his only daughter Emily to the United States for high school, he was hopeful that the 15-year-old would regain her enthusiasm for learning and be happy.
It turned out to be a decision that the parents and child could not be happier about. This past spring, after attending the Grier School in central Pennsylvania as an international boarding student, Emily was accepted at the University of California, Davis, and Penn State University.
"I used to hate school and homework in China," said Emily, adding that she didn't get much attention from teachers because she struggled in class. "But here at Grier I have all these fond memories about learning and motivation and have benefited much from interacting with peers from all over the world."
Her father, a physician and renowned expert in late-stage cancer research and treatment in China, said investing in Emily's education yields ample rewards. "I'm not positive that she would have been admitted to the same US universities if she received her education in China," he said.
Although China has started gradually transforming its education system, its framework and foundational concepts are often criticized as being narrowly focused on students' academic performance instead of developing character and leadership. Schools are rated by enrollment percentage and students' scores, parents send children to after-school enrichment programs, and heavy homework and work sheet loads devour time for extracurricular activities.
'Nightmarish years'
"I still can't forget the nightmarish years when we had to shuffle Emily back and forth between school and after-school training institutions," Chen said. "My wife kept pushing Emily to study harder and would lose her temper at her progress. None of us were happy."
When Emily decided to attend middle school in the US and in 2013 enrolled at Grier in Birmingham, the family breathed a sigh of relief. Different teaching methods, different learning approaches and expectations from the school have made Emily independent and self-advocating.
"My experiences at the school led me to take leaps of faith in myself and encourage me to believe I could make great things happen," Emily said.
The Chen family story is not an exception. According to the US Department of Homeland Security, the number of Chinese K-12 students soared to 34,578 this year, almost half of international students attending US high schools and primary schools.
In 2010, 8,857 Chinese students attended US K-12 schools, according to the Student Exchange and Visitor Program.
Eva Liu, a Silicon Valley marketing professional, and several of her entrepreneurial friends designed a website - http://waijule.com - and app that helps Chinese parents locate the best public and private K-12 schools in the United States.
"We feel that sending young children to US boarding schools will continue," Liu said. "The increase shows no sign of abating in the near future due to the sheer size of China's population and the rise of a wealthy class."
Chinese students at Grier are almost half of the about 300 enrolled at the private boarding and day school. The school's administration set up a publicity office in China several years ago to welcome Chinese students to offset declining domestic enrollment and funding.
"Fifty thousand dollars a year, including tuition and boarding fees, is not a small number," Emily said. "I understand my parents pin high hopes on me."
Young troublemakers
Young Chinese children attending US middle schools have become common across the nation, and the nickname "parachute kids" has been given to the special group by the US media and public.
In recent years, some of them had made negative headlines, creating a stereotype of "rich, idle and reckless Chinese teenagers".
In November 2012, 19-year-old Xu Yichun studying at the South Puget Sound Community College in Seattle, was driving his new Mercedes-Benz C350 with four other students back home after grocery shopping. Xu neglected a stop sign and broad-sided a car, killing the other driver and injuring four people. Xu's mother posted a $2 million bail to get her son released from jail. Prosecutors worried that the foreign student would jump bail but he was nonetheless released. Xu was deported in 2014 and barred from returning to the US for 10 years, according to Immigration and Customs Enforcement officials in Seattle.
On Feb 17, three 19-year-old Chinese students in a Southern California private school were sentenced to years in prison after being convicted of kidnapping and assaulting two Chinese classmates. Yunyao "Helen" Zhai was sentenced to 13 years; Yuhan "Coco" Yang got 10 years; and Xinlei "John" Zhang got six years. Zhai, the ringleader, apologized for her actions in a letter read to the court. "I hope they (the victims) do not carry the wounds from what I did for the rest of their lives," she wrote.