With IT devices, students realize their creative potential, writes Guo Ying from China Features
In a classroom of the elementary school affiliated to Renmin University of China, 11-year old Yao Bohan swings from left to right before a computer screen, shouting occasionally. The character on the screen follows his movements and jumps high to eat a fruit every time he shouts.
This is a motion sensing game and Yao is the designer.
Using what he learned in the school's information technology course, Yao made the game with S4A software, Arduino microcontrollers and infrared and sound sensors.
Although the low-cost game cannot compare with sophisticated, branded motion-control devices, it still gives Yao a sense of achievement.
The 40-square-meter classroom is filled with creativity: art works made from copper foil tape, LEDs and button batteries; a robotic car that can be remote controlled through Bluetooth.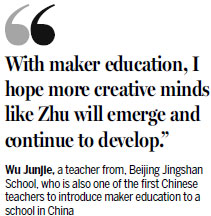 Yao's teacher Zhao Yu uses project-based learning to encourage his students to make their own open-ended creations, based on their personal interests. Their wild imagination and unrestrained creativity left him astounded.
"In the IT course, previously we used to focus on software knowledge that is solely used on computers, but now we often combine hardware and relate it to daily life, so when programming is used for real-world projects, primary school students don't' find it boring," Zhao says.
He and his students showcased their DIY-products at a booth at the Maker Faire Beijing in August, becoming part of China's dynamic maker movement.
The maker movement - a term for grassroots creativity - is viewed as a future engine for China's economic growth. China is pursuing an innovation-driven development strategy and using the maker movement's potential for entrepreneurship and innovation.
Zhao thinks the movement has instilled in teachers the desire to include the maker spirit in the education system.
In recent years, pioneering schools in cities such as Beijing, Shenzhen, Wenzhou and Ningbo have explored ways to introduce the maker spirit to schools by launching experimental programs that emphasize fabrication, invention and creativity. Maker spaces, maker carnivals and student innovation contests in schools have gained popularity.
The Ministry of Education issued a guideline in 2015 on exploring maker education to cultivate IT awareness and innovation ability among students.
Li Yifei, deputy director of the Science Communication and Education Research Center at Beijing Normal University, says that for years, Chinese students were subject to rote learning and test-oriented education that suppressed their natural tendencies to innovate, experiment and create.
"The growing popularity of maker education shows that some schools and teachers have recognized the importance of encouraging creativity. The introduction of maker education to schools might be a breakthrough for China's education reform," Li says.
But promoting maker education is no easy task, he cautions. Most Chinese teachers are accustomed to the established curriculum and direct instruction, so they need to explore how to implement project-based teaching and engage with students.
Wu Junjie, of Beijing Jingshan School, was one of the first Chinese teachers to introduce maker education to a school. The widespread use of open-source hardware and high-tech tools such as 3D printers offers technology support to maker education, he says. He and other IT teachers have watched recent developments and updated their courses. In 2015, they introduced a course on S4A software, and this year, 3D printing.
"The ultimate goal of these courses is to equip students with advanced technology tools to make their own unique creations. Learning is supposed to happen as part of students' experience as they tackle hands-on projects," Wu says.
Zhu Zhongwen, one of Wu's students, shows great potential. He began to write software when he was 9 and touched on intelligent hardware when he was 12. When he was 14, he became the youngest contestant in China's Hackathon and put forward a concept product called "Dream Swimmer" that can control the dreaming process.
"I believe Chinese students are no less creative than their counterparts in other countries. With maker education, I hope more creative minds like Zhu will emerge and continue to develop," says Wu, adding that family and social environment also play vital roles in nourishing the maker spirit.
Jia Sifei attends an international school in Beijing, and Elon Musk, a typical incarnation of the maker spirit, is his idol. According to Jia's mother, he has been obsessed with making things with all kinds of materials since the age of 3. When he was 6, he developed a strong interest in open-ended tools such as Arduino microcontrollers and began to build his own interactive hardware.
"I'm happy to see him fully absorbed in hardware like an engineer and making something he is really proud of," she says. "I think children's passion to create needs to be protected and encouraged."
The Young Maker Institution is an extracurricular training agency that focuses on maker education and provides project-based teaching for students aged 9 to 14. Co-founder Ma Qingyang believes there is a growing market for maker education in China.
"Although China is to, some extent, an exam-oriented country, the gaokao (national college entrance examination) is no longer the only path to success," Ma says. "The popularity of studying overseas and the emergence of startups offer more possibilities to China's youth. Students and parents are starting to pay more attention to independent thinking and creativity, which counts for a lot in their future development."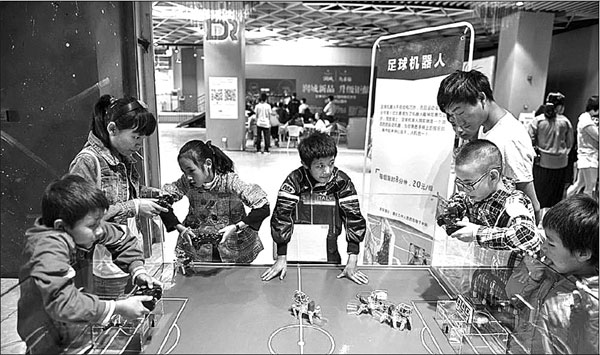 Children control robot table soccer players at a competition during a robot carnival and summer youth camp in Kunming, capital of Southwest China's Yunnan Province, on July 15, 2016. More than 50 robots featured in education, entertainment, service and industry were on display at the camp.Hu Chao / Xinhua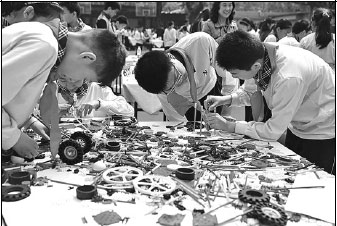 Students take part in a maker carnival at the Jingtai Primary School in Beijing on April 29, 2016. Jingtai Primary School held a science and technology maker carnival on its campus.Zhou Liang / Xinhua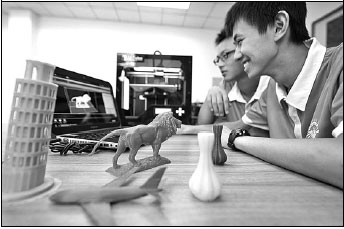 Students operate a 3D printer at the 3D LAB at Beijing No. 2 Middle School Yizhuang branch, in the capital on June 16, 2014.Zhang Yu / Xinhua