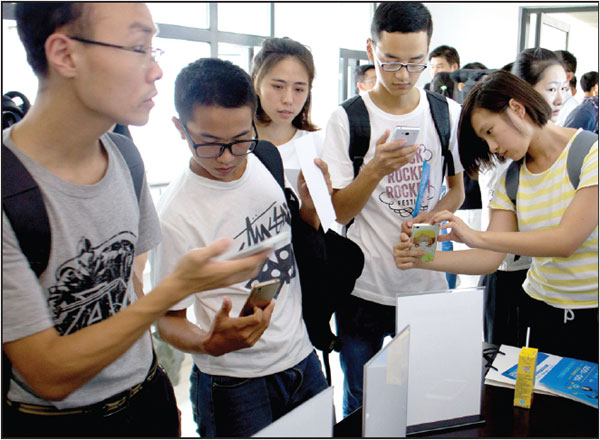 Students at Shanghai University of Finance and Economics sign up for a course on internet finance by scanning a code with their mobile phones.Photos By Gao Erqiang / China Daily
Topics of study include mobile payments, crowdfunding and internet banking
China's first-ever university course on internet finance, intended to enhance students' ability to understand and manage their wealth online, has begun at Shanghai University of Finance and Economics.
Jointly developed with Ant Financial Services Group, an arm of Chinese e-commerce giant Alibaba, the eight-session, elective course features talks from both university professors and online finance practitioners.
Topics covered include new forms of finance, such as mobile payments and crowdfunding, as well as practical business examples in the areas of internet banking and fund management.
"The rapid development of China's economy has brought so many new matters to the fore, and we wanted to renew our curriculum to reflect this," said Wei Hang, vice-president of the university's School of International Business Administration.
"The fact that the course was oversubscribed showed that our decision was quite correct."
During the first class of the new course on Sept 22, students discussed the necessity of financial management while at university.
Such topics are relevant because Chinese born in the 1980s and '90s are the main users of online platforms to manage wealth and make investments, according to a report released in January by Alipay, Alibaba's online payment platform.
"Every one in five of those who turn to internet platforms for wealth management is a high school or a university student," the report said.
Xu Jie, vice-president of Ant Financial Business School, said wealth management education in China lags far behind that in the United States and the United Kingdom, where classes on managing money and savings begin in primary schools.
She said that a lack of awareness in these areas has led to cases where students spend impulsively, run up credit card debts and end up being swindled out of a large amounts of money.
At least two student suicides this year have been investigated by police amid claims of the involvement of fraudsters.
It is hoped that by enhancing students' financial education, they will be better able to understand and manage such risks.
Live video clips of classes from the new course will be made available to all university students via Alipay's mobile app.
Wei, from the university, said they are also considering adding other new subjects to the curriculum.
"E-commerce and how it affects international business and trade, for example, is a new and thriving topic in the new environment of world economics," he said.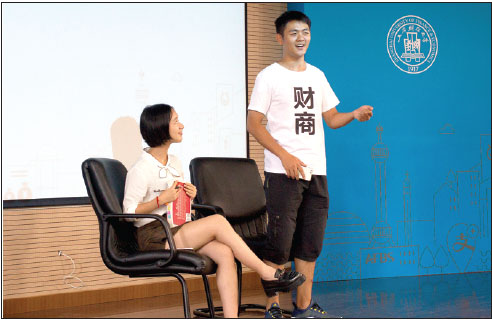 Students use drama to convey the importance of wealth management at Shanghai University of Finance and Economics in Shanghai.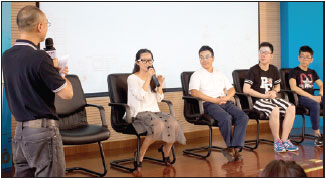 Teachers speak with students during the first class of the new course.