The United Kingdom will collaborate with Jiangsu province on education, according to Jo Johnson, UK minister of universities, science, research and innovation, who recently visited Xi'an Jiaotong-Liverpool University in Suzhou, Jiangsu province.
"We want to work with China to address challenges in education, to develop globally aware citizens equipped with the skills and cultural understanding that is essential in today's globalized economy," said Johnson, whose visit focused on innovation and higher education collaboration between the two universities.
He said Chinese already account for the largest group of international students in the UK, with more than 90,000 in higher education at present and more than 600,000 graduating from UK universities since 1978.
Meanwhile, increasing numbers of UK universities are forging sustainable long-term partnerships with Chinese institutions.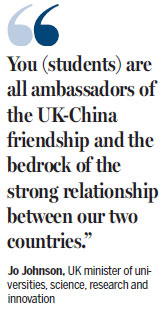 The UK has become the top transnational education provider in China, with more than 270 joint initiatives at the higher education level, he said.
"The Beijing Statement" was announced jointly by China and the UK in March, the first statement of shared principles for quality assurance in UK-China transnational education programs," Johnson said.
"Increasingly, an essential part of the relationship is about people, the growing cultural and educational connections between us. It is essential that we not only work together, but that we also understand each other and our respective cultures."
He addressed students and staff at Xi'an Jiaotong-Liverpool University, calling the university an "extraordinary achievement" and saying that those involved in its development should be "tremendously proud".
He also praised the high standard of education on offer at the university, telling students that they would acquire "some of the most desirable qualifications available from any institution anywhere in the world" and that they are the future of UK-China partnerships.
"You are all ambassadors of the UK-China friendship and the bedrock of the strong relationship between our two countries. I know that you will all contribute greatly to the deepening relationship between the UK and China in the months and years to come," Johnson said.
Six agreements to deepen collaboration in research, innovation and higher education between Chinese institutions and British organizations were signed on his visit, including one between the British Council and financial services provider Gold Finance to introduce scholarships for British students to study film and television in China.
After his speech, Johnson unveiled the university's International Research Center, located on its newly opened south campus, which will serve as a hub for entrepreneurship, research commercialization and international technology transfer, driving economic activity in Suzhou and the surrounding region.
Founded in 2006, Xi'an Jiaotong-Liverpool University is the largest international joint venture university in China, a partnership between Xi'an Jiaotong University and the University of Liverpool.
It has enrolled more than 10,000 students, in more than 70 undergraduate programs, master's programs and PhD courses.
Other joint academic ventures with UK institutions include the University of Nottingham Ningbo, which only enrolls Chinese students, and Manchester Business School that opened in Shanghai in 2008, offering domestic students triple international accreditations.
Shanghai New York University was the first Sino-US joint venture university approved by the Ministry of Education, while Duke University partners with Wuhan University in Kunshan, Jiangsu province.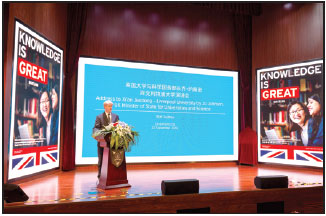 Jo Johnson makes a speech at Xi'an Jiaotong-Liverpool University in Suzhou, Jiangsu province, during his visit.Provided To China Daily