Closer collaboration between the United Kingdom and China in the fields of education and research has been urged by the recently announced new chancellor of the University of Bristol, a prestigious higher education institution in the UK.
Sir Paul Nurse, who was jointly awarded the 2001 Nobel Prize in Physiology or Medicine, was appointed the eighth chancellor of the university in July.
Defining his role as "ceremonial and ambassadorial", Nurse said he hoped to use his position to help raise Bristol's profile and advance its interests nationally and internationally, including with China.
"A key part of the university's new strategy is building on its world-leading reputation for research. This includes further work to increase the productivity of strategic partnerships with universities and other organizations overseas, and a focus on attracting the very best students from all around the world," he said.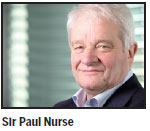 "I know that the University of Bristol sees building its partnerships in China as being a top priority. The UK is already China's largest collaborator in Europe, co-authoring more scientific research papers than any other country in the world, except the US and Japan."
Britain has long been a favored destination for Chinese studying overseas and last year alone more than 70,000 visas were issued to students from China. However, the UK's vote to leave the European Union has triggered concerns over its future attractiveness to Chinese students.
Nurse said that although the Brexit vote has caused some short-term uncertainty, he believes the quality of higher education in the UK still remains among the best in the world.
"The ambition of British universities to retain this position will not change, and nor will their international outlook. I am confident that Chinese students will still want to come and study in Britain because of the world-class education and the cultural experience they will receive living in the UK," he said.
Last year, Nurse was elected to the Chinese Academy of Sciences, China's top think-tank on science and technology, as a foreign academician. As an international scientist himself, he said he would like to see more young Chinese researchers working in the UK and more young UK researchers working in China.
The University of Bristol is already working closely with the Chinese Scholarship Council to enable young Chinese to pursue their studies or research in the UK.
"Historic links between our staff and these early-career Chinese researchers will be the cornerstone of future research and progression," he said.