Professors from prestigious institutions around the world have been invited to teach in English
Xie Heping, president of Sichuan University, has his own ideas for building the 120-year-old institution into a world-class beacon of higher education.
"The most important thing for us to do during the process is to nurture talent with an international vision and competitiveness," he said.
Xie is also an academician at the Chinese Academy of Engineering and a dynamicist, or an expert in rock mechanics.
To equip students with vision and competitiveness, the university, which is located in Chengdu, capital of Southwest China's Sichuan province, launched its immersion program during summer vacation in 2012. It invited eminent professors from prestigious universities around the world to teach courses in English for two weeks.
Excellent students from around the globe have also been invited to visit the campus and communicate with students there.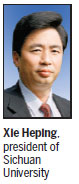 "We did so because we hope that each student at Sichuan University - whether from a rich family or an impoverished one - will spend time with the best teachers and peers, acquire the knowledge and ability needed in international society and finally grow up as outstanding adults who are capable of participating competitively in international affairs," Xie said.
So far, the program has been run with an annual investment of 20 million yuan ($3 million). More than 500 experts and scholars from some of the world's best universities, including Oxford, Harvard and Yale, have taught 657 courses in English.
Over the past five years, at least 100,000 students - not only from Sichuan University, but also from 10 other higher education institutions in Southwest China, such as University of Electronic Science and Technology of China and Southwest Jiaotong University in Chengdu - benefited from the program.
Xie also believes that Sichuan University must encourage global collaboration and offer intelligent support if it wants to be recognized beyond China's borders.
To realize this goal, an international consulting council was recently set up to "make key suggestions on issues such as carrying out development strategies and selecting and recommending talent for the university", Xie said.
The consulting council consists of 53 educators, entrepreneurs, officials and scientists from China and abroad, including Samuel Chao Chung Ting, a Nobel Prize laureate in physics.
With the help of such great minds, Xie believes that Sichuan University will make rapid strides in the coming decades.
"We would be very happy to share the experience with other universities of China if we succeed," he said.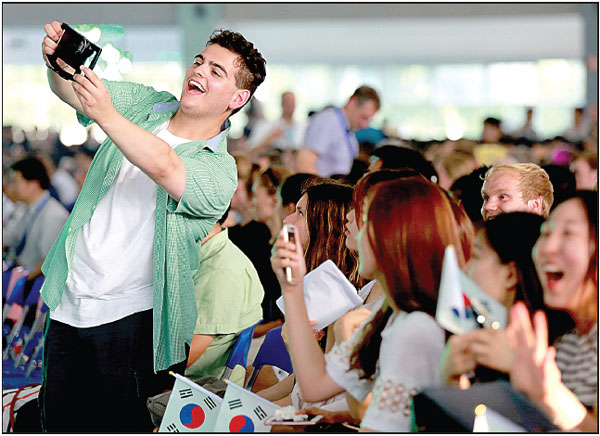 Overseas students take part in an opening ceremony that launches a week-long international courses program at Sichuan University in Chengdu, Sichuan province.Chen Yuanming / For China Daily