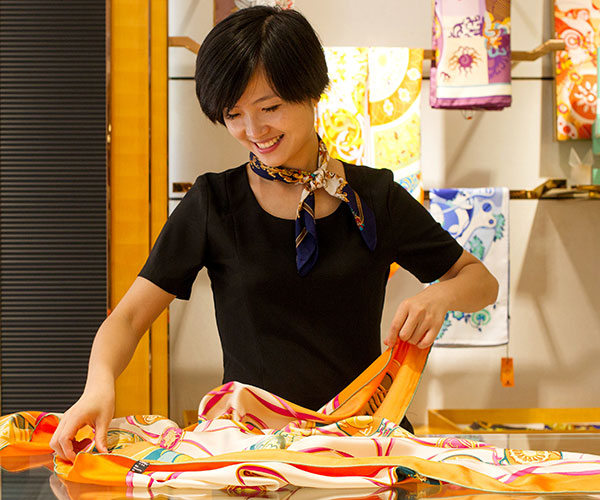 An employee of Wensli Group displays silk scarves to be given to B20 Summit guests as gifts. GAO ERQIANG/CHINA DAILY
Silk products are synonymous with Hangzhou, the city that first exported them during the Western Han Dynasty (206 BC-AD 24). Two millennia later, the exquisite craftsmanship of silk continues to be the source of justifiable pride.
It should come as no surprise that guests at the B20 and G20 summits will find silk forming an integral part of their experience there.
To symbolize the city's attachment to the fine material, a gift package for the B20 Summit guests contains a pure silk scarf. More than 800 participants at the B20 Summit received such scarves.
The scarves have intricate designs, and their poetic names, including "Flowers Filling the Pavilion", "Butterflies Around Flowers", "Auspicious Totem" and "Painting and Elegance", suggest grace and serenity.
"Painting and Elegance", inspired by traditional blue and white porcelain, is the favorite of Tu Hongyan, chairwoman of the Wensli Group, one of the companies responsible for preparing the gifts.
She led a team of 30 top designers who came up with more than 100 patterns, many incorporating Chinese motifs such as the dragon and phoenix, before finally whittling them down to five.
Each of the silk scarves is printed and dyed about 20 times, and it takes six weeks for the process of platemaking, printing and dyeing to be completed, said Li Minxia, a silk designer from Wensli Group.
Wang Pengcheng, deputy general manager of the brand operation center at Zhejiang Cathaya International Co, said silk combines the essence of local expertise with global popularity and, as such, is a gift of immense symbolism and appeal.
The center prepared 20,000 silk scarves for the G20 guests, with two main patterns-"Romantic Dancing Butterfly" and "Far-Reaching Elegance".
"Silk gifts are an ideal choice to balance both Chinese characteristics and international recognition," said Wang.
The G20 economies appreciate the qualities of silk, he said.
Globally, the Japanese use the most silk products, and French brands like Hermes use silk for signature products. Italy is a well-known center for silk goods, and Brazil is a large silk manufacturer.
China played a major role in developing sericulture, or silk farming, and one of its origins is in Qianshanyang in northern Zhejiang province.
Archaeological digs there have unearthed silk thread, ribbons and silk from more than 4,000 years ago. After laboratory testing, they were confirmed to have come from domesticated silkworms.