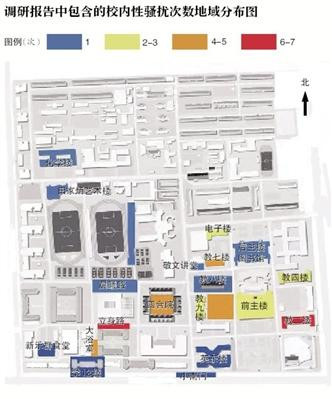 [File photo]
Kang Chenwei, a junior at Beijing Normal University, has drawn a map of sexual harassment on campus that he expects to assist security guards, reported Beijing News.
Kang, who majors in Chinese, led seven students in research that took four months, pinpointing the sites on campus where students reported sexual harassment. The campus's Lishen Road was marked red for the high frequency of assaults.
The 13,000-word report was based on studies of 60 cases from 2007 to 2016. In addition to geographical distribution of incidents, the report also showed the time of assaults, topped by a 24 percent rate at 6 pm.
Kang said he couldn't remember how many assaults he read about on the university's Internet forum over the past three years. From Aug. 18 to 25, there were five reports, according to the newspaper.
He said school authorities had not contacted him, although he received generally positive comments and wanted to help security guards improve their work.
A student at the School of Foreign Languages said she and her classmates had all experienced being sexually harassed. "The report will help us avoid certain sites," she commented.
Tong Lihua, director of a juvenile law research center in Beijing, said the high concentration of young, naïve women at universities make them prey to harassment, especially since some schools have loopholes in security management.
Beijing Normal University is one of the oldest and most prestigious universities in China, and an important national base for training school teachers.