Maria Trabulsi moved to Beijing with her parents when she was 7 months old, and has lived here ever since. Her family, however, is moving back to Saudi Arabia at the end of June, leaving the city where she keeps all her memories from her very short life, so far.
"I'm a Beijinger. I will miss this place so much," says the girl, now 3, who speaks fluent Chinese with the correct four tones, which is usually considered the most difficult part for foreigners.
She likes the busy streets and the quiet hutongs, alleyways that usually run between ancient houses; her black-haired friends and the British-system kindergarten; and the various snacks and traditional festivals — basically every aspect of life in Beijing, from the traditional to the modern.
Lana Sultan, a 37-year-old author, translated her daughter's adventures of discovering the city, as well as her feelings and inspirations, into a bilingual book, What a Place Beijing Is! Expressed in simple language, the book was illustrated by a young local woman and published in Beijing in late April.
Friendly, cheerful, precious, blissful, delightful, fun, festive, charming, legendary, lovely — in these words Sultan and Trabulsi describe the city in the book, which describes 10 different typical scenes in this city throughout a year with only 165 English words.
The scene that Sultan and Trabulsi like best is the park in autumn: a group of old ladies dance, a elderly band plays instruments and sing, young men play table tennis and fly a kite, girls kick shuttlecocks and play Chinese yo-yo, an old man writes brush calligraphy on the ground and walks around with a bird cage. People exercising, and Trabulsi is learning tai chi.
"What a busy park," says Sultan, laughing. "But this is just what a park can be like in China, with so many different kinds of people having different kinds of fun."
Sultan wrote the book in a way that a lot of people can relate to: Expats can connect it to their experience, Beijingers can enjoy that someone else appreciates their city and culture, other Chinese people who don't know Beijing can learn about the city, and so can people who don't know China at all.
"I put all my passion into this book. I wrote it with love," says Sultan.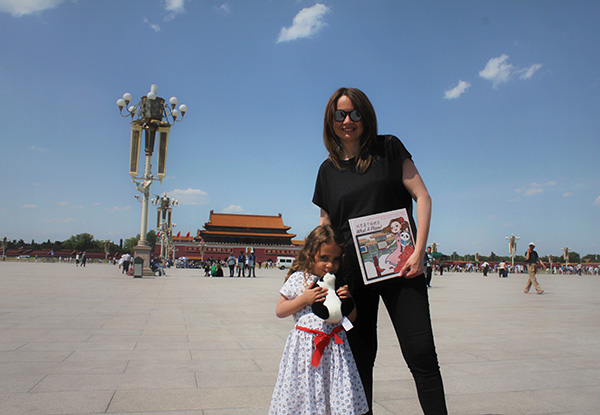 Maria Trabulsi and her mother visit Tiananmen Square in Beijing. [Photo by Yan Dongjie/chinadaily.com.cn]