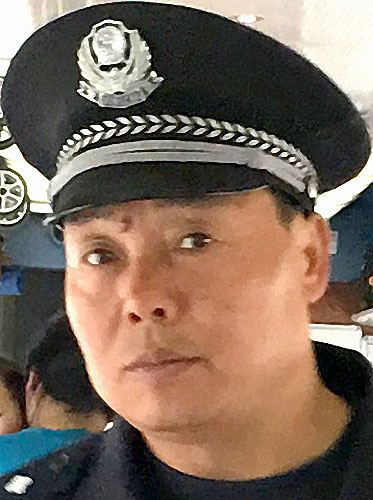 Zhang Xiping, 54, from Henan province, has been working as a police chief on trains running along the Qinghai-Tibet Railway since the line opened 10 years ago. CHINA DAILY
First Person: It's not easy, but has been the 'best experience of my life'
By Palden Nyima
Working on the Qinghai-Tibet Railway is really not easy, considering the lack of oxygen in the high-altitude environment. But I regard working on this railroad as the best experience in my life.
I am always struck with the beautiful landscape-the snow-capped mountains, the vast Changthang grassland and the wildlife, including yaks and Tibetan antelopes along the line.
I have been working as a railway policeman for 29 years, and I have been in the Qinghai-Tibet section for 10 years.
Because the average attitude is above 4,000 meters, I have many times experienced physical discomfort, including headaches, vomiting, chest distress and loss of sleep. Still, every time I see the beautiful landscape and the wildlife, I am pleased. I'm truly touched by the scenery.
In the past few years, the facilities of the train and the railway overall have improved a great deal, with the regular maintenance and refinements.
When I first came to Lhasa 10 years ago, there were not many buildings around Lhasa Railway Station; however, it has grown and prospered and now has many buildings standing around. Transportation conditions are much improved.
Many people dream of going to Tibet once in their lifetime. I've had numerous trips, and I cherish my experiences on every one of them."
Zhang Xiping spoke with Palden Nyima.
Next up: How major challenges were overcome