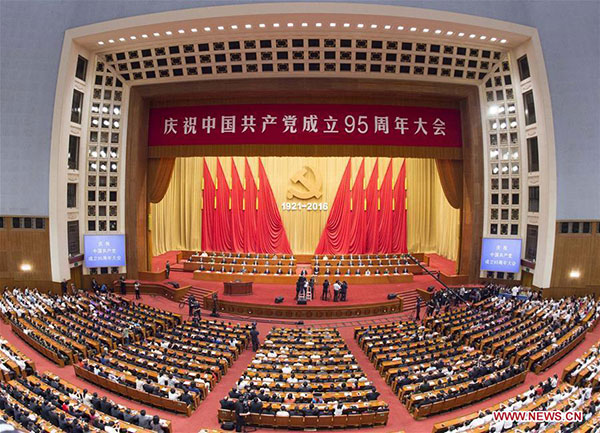 A grand gathering celebrating the 95th anniversary of the founding of the Communist Party of China (CPC) is held at the Great Hall of the People in Beijing, capital of China, July 1, 2016.

The world order should be decided not by one country or a few, but by broad international agreement, said Xi Jinping, general secretary of the Communist Party of China Central Committee, on Friday.

"It's for the people of all countries to decide through consultations what international order and global governance systems can benefit the world and people of all nations," Xi said here at a rally marking the Party's 95th founding anniversary.

Xi said China will actively participate in the building of global governance system and strive to contribute Chinese wisdom to the improvement of global governance.

"China will work with people of all countries in the world to push the world order and global governance system toward a more just and reasonable direction," said Xi.

China advocates that people of all countries join together to change pressure into power, risks into opportunities, and replace confrontation with cooperation and monopolies with win-win deals, said Xi.

Xi tells CPC to 'stay true to mission'
Xi Jinpingcalled on his comrades to "stay true to the mission" taken up by the CPC 95 years ago.

"One who wants to stride ahead should not forget the path that was trodden. No matter how far we will travel and to whatever bright future, we should not forget what we have done and why we set out to do it," said Xi, at a rally marking the 95th founding anniversary of the CPC in Beijing.

He called on CPC members to "uphold the fighting spirit" of the Party's founding members and their commitment to the people.


Xi stresses supply-side reform in CPC anniversary speech
Xi Jinping called for intensified efforts in supply-side structural reform in a speech at a rally marking the 95th anniversary of the founding of the CPC.
The economy should be developed in a more effective, equitable and sustainable fashion and with higher quality, said Xi at the event in the Great Hall of the People in downtown Beijing.
China should foster an atmosphere in which the principles of innovation, coordination, green development, openness and sharing are upheld in order to expand economic power as well as overall national strength, he said.
Xi stressed that development is the top priority for the Party.
Xi reiterates opposition to "Taiwan independence"
"We firmly oppose the 'Taiwan independence' secessionist activities," Xi said in his speech.

"More than 1.3 billion Chinese people and the whole Chinese nation will by no means tolerate secessionist activities by any person, at any time and in any form," he said.
China will not flaunt military power: Xi
China will not resort to the threat of force at will, nor will it "flaunt its military power on others' doorsteps at the drop of a hat," said Xi.
"Flaunting power everywhere will not reflect strength and it will not scare anyone," Xi said.
He stressed China's military strategy of "active defense."

Xi: strengthen confidence in China's social system
Socialism with Chinese characteristics should be evaluated not by "people with tainted glasses," but by the Chinese, based on facts, said Xi.

"CPC members and the Chinese people are fully confident of providing a Chinese solution to mankind's exploration of better social systems," said Xi.

The whole Party should strengthen confidence in the path, theory, system and culture of socialism with Chinese characteristics, he said.
Xi urges innovative application of Marxism
The Communist Party of China (CPC) should adapt Marxist principles to the current realities in China, and be innovative both in theory and practice, said Xi.
"Marxism is never the end of truth. It opens a path toward truth," Xi said.
Xi stressed the Party's continued devotion to Marxism. "Deviating from or abandoning Marxism, which is the fundamental guiding theory for both the Party and the country, our Party would lose its soul and direction," he said.