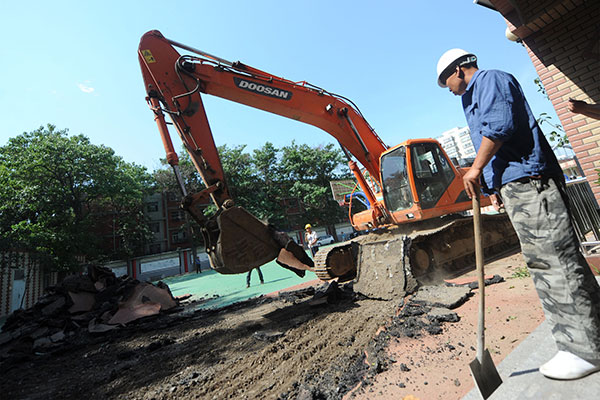 Synthetic tracks at the Baiyun Road Campus of Beijing No 2 Experimental Primary School were dismantled on Friday after parents complained that their children were poisoned by chemicals emitted by the material. WEI TONG/CHINA DAILY
A kindergarten in Beijing has been sued over its synthetic running tracks, which are suspected of causing sickness among children.
The Liu Shikun Wanxiang Xintian Kindergarten, with about 500 students, was accused of refusing to demolish its synthetic tracks-which have been alleged to have caused vomiting, nosebleeds and skin reactions among the students-since they were renovated in April.
China Biodiversity Conservation and Green Development Foundation, an NGO, filed a public-interest lawsuit against the kindergarten on Tuesday.
"The running tracks at the kindergarten, emitting a pungent odor, are polluting the air and soil in the community," the foundation said in the petition.
"The running tracks are a threat to the public interest because they are threatening the health of not only the kids at the kindergarten, but the residents nearby," the petition said.
A resident surnamed Jiang said her child showed symptoms on April 21, followed by more children, after a sports meet was held on April 26.
Some of the children were taken to the hospital and were found to have abnormalities in blood tests.
"Most of the parents have ceased sending children to the kindergarten for fear of any further adverse effects on their health," Jiang said.
She added that a parent's committee was formed to negotiate with the kindergarten. "We requested the demolition of the running tracks and promised to pay the cost, but we were refused," Jiang, who is also a member of the parent committee, told China Daily.
The parents then reached out to the foundation, which conducted an investigation, collected evidence and filed the appeal to the Beijing No 4 Intermediate People's Court.
"We hope that the kindergarten will put children's health above everything and remove the tracks as soon as possible," said Ma Yong, deputy secretary-general of the foundation.
The kindergarten could not be reached for comment.
Ma said they also sent a letter to the Ministry of Education on Monday, urging the ministry to investigate synthetic running tracks at all schools to avoid similar incidents.
"We are still waiting for a response from the ministry," Ma said.
A report by China Central Television on Wednesday showed that many of the synthetic running tracks at schools in Beijing were produced by unqualified small workshops in Hebei province.
The workshops recycled old tires, which are cheap but toxic, according to the report.