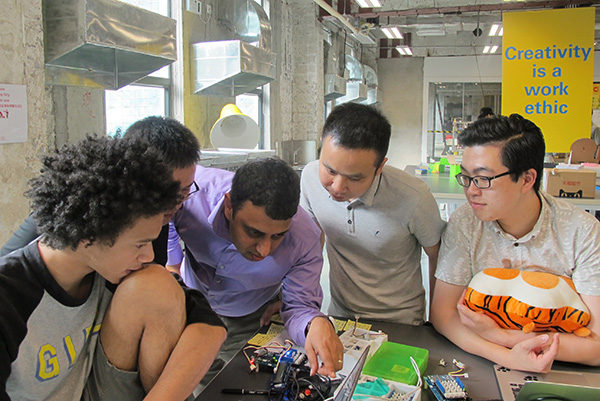 IoT Social Impact Symposium at The Chinese University of Hong Kong (Shenzhen) Center for Innovation, Design and Entrepreneurship.
The Internet of Things may hold great benefits for left-behind children, one of China's most vulnerable groups.
If you haven't caught up with the concept yet, the Internet of Things refers to physical objects — devices, vehicles, buildings and other items — embedded with electronics, software, sensors, and network connectivity that enables the collection and exchange of data. Objects can be sensed and controlled remotely, for example.
But what has that got to do with left-behind children in China?
To explore answers, 24 students from six different countries, many from technical disciplines, gathered in Shenzhen in early May, to design prototype devices with the goal of improving the educations and incomes of the more than 60 million children whose parents have gone to work in cities without them.
"Before I came to the event, I remember reading news that kids committed suicide when their parents were far away. It upset me," said 18-year-old Kadallah Burrowes from the United States.
"I am glad that I got this opportunity, trying to do something to make a difference. It is not just something fun; it has the potential to help a lot of people. Small and cheap, with some government help, we might be able to turn the devices into something that helps the kids," said Burrowes, who majors in interactive media arts at New York University Shanghai.
Burrowes and his teammates designed a mango-shaped device that allows parents, wherever they are, to set various tasks for their children. The children then go to their grandparents or teachers for verification once a goal is achieved. Using the device, parents can stay involved in the growth of their children, the team said.
"Usually, the parents and children only meet once or twice a year. So the bond is weakening over the years," said Xin Haiyang, a PhD candidate in information engineering at The Chinese University of Hong Kong (Shenzhen).
To tackle the problem, Xin's team designed a "bonding tree", decorated with some lights, which are connected to the phones of the members. The lights turn from green to yellow and even red when the parents and children haven't talked for certain time.
"Love is not only about how much money the parents send back every year; it is communication on a daily basis that make children feel cared about and safe," said Xin, 29.
It is the second IoT Social Impact Symposium organized by the Shenzhen-based university together with Intel Corp of Santa Clara, California, and NYU Shanghai, jointly established by New York University and East China Normal University.
"When you take this issue to a number of professionals, their thinking from minute-one is how this will make money," said Yashesh Shroff, program manager of the Internet of Things at Intel and a tutor at the symposiums.
"Students don't think about that. What they care about is whether this will solve the problem and whether the customer will like it. It needs to be a good product, then you think about profitability."
Even though profitability is not the top priority, the students do have to bear in mind that the products have to be market-fit, said Christian Grewell, a professor of interactive media arts and business at NYU Shanghai.
Grewell said what always happens at such events is that everyone gets together, comes up with some interesting ideas, makes the prototype and then goes away.
"That is the main complaint: You make something cool, but nothing ever comes of it. We will sit down with Intel and take a couple of these ideas forward, if they're compelling," he said.
The next symposium focused on children's issues in China will be held in December and is expected to be joined by more than 100 students, scholars and entrepreneurs, according to Eliot Gattegno, director of the Center for Innovation, Design and Entrepreneurship at The Chinese University of Hong Kong (Shenzhen).