Rare 'Horse month of the Monkey year' sparks intense interest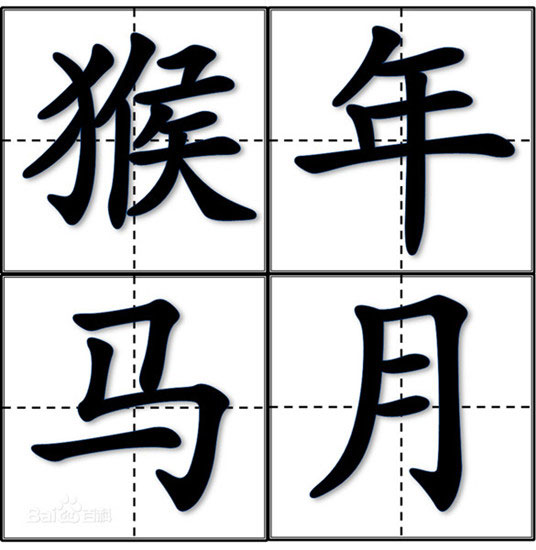 Chinese characters of Hou Nian Ma Yue, or "Horse month of the Monkey year". CHINA DAILY
Netizens on Chinese microblogging websites are all agog for the upcoming "Horse month of the Monkey year", a calendar occurrence so rare that the phrase is a commonly used slang to refer to a date in the unforeseeable future.
"Horse month of the Monkey year", or Hou Nian Ma Yue, also indicates something that cannot be done within a predictable period of time or in which the chance of success is slim.
"My dad said that I can only find a girlfriend in 'Horse month of Monkey year'. I finally realized that the time is coming," micro blogger Wei Lin De Cen wrote online.
Another micro blogger wrote: "My boss told me in a serious tone that my salary would not grow until the 'Horse month of Monkey year'. But when I looked at the calendar, I said, 'it's settled'."
Based on the Chinese lunar calendar, each animal in the zodiac not only represents one year, but also symbolizes a particular month. For example, the rat corresponds to the 11th month in a lunar year and an ox refers to the 12th. This year, the Year of Monkey, the month of the horse falls from June 5 to July 3.
As the seemingly distant future is nearly upon us, the topic has become one of the most talked about online.
A topic page on Sina Weibo, a popular Chinese microblogging website, has received more than 60 million views and more than 70,000 messages were posted on the theme.
Many netizens are describing 2016 as a good year, as they believe the results of their best efforts will appear in the Hou Nian Ma Yue.
"It seems that many of my wishes will finally come true," wrote a Weibo user under the name Dongdong Bujiao Huidong.
The "Horse month of Monkey year" only appears once every 12 years. The idiom's origin isn't clear, but the phrase is clearly popular with the public.