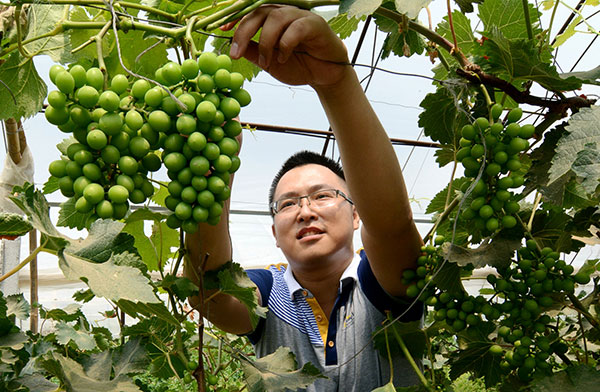 Li Dayong, who invested in agriculture after he returned from studying in Japan, works in one of his greenhouses in Liaoning province. Li Tiecheng / for China Daily
Increasing numbers of talented Chinese who have studied or worked overseas are choosing to start a business in a less-developed inland province, driven by local governments' policy and funding efforts.
The Xi'an Overseas Chinese Scholars Pioneering Park in Shaanxi province has attracted more than 1,000 returnees to set up companies since the incubator was launched in 1998, according to the latest statistics from the Xi'an Pioneering Park Development Center.
The park was among the first group of incubators jointly founded by the central and provincial governments to lure Chinese talent back from abroad, said Li Xu, a project manager at the center.
So far, the government has allocated more than 365 million yuan ($57.38 million) to support the returnees' startups, mainly in enterprises in high technology, such as electronic information, biomedicine and new materials, Li said.
"We paid experienced business leaders to coach our entrepreneurs in different stages of development. We established partnerships with dozens of investment organizations and auditing companies to facilitate the financing for our startups. We sponsored companies in our incubators to attend overseas exhibitions. And we provided consultation for intellectual property rights protection," he said.
About 1.8 million Chinese who studied or worked overseas returned to the Chinese mainland up to earlier this year. Among those, half chose to start their own enterprises, Guangming Daily reported in July, quoting statistics from the Ministry of Education.
There are more than 300 incubators nationwide for overseas returnees who plan to start businesses, according to the report.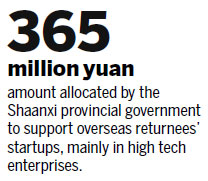 Yun Feng has led his research and development team to conduct cutting-edge research and commercialization of the latest generation of LED chips for specialty lighting in the pioneer park since 2011.
With his many years of university and industrial experience in Japan and the United States, Yun is recognized as a global expert in Optoelectronics. In 2010, he was hired as a professor at Xi'an Jiaotong University, where he established a world-class research center for solid-state lighting technology.
One year later, the university prompted Yun to found a research/industry alliance - Shaanxi Supernova Lighting Technology Co - to develop products with high-end LED chips that domestic companies heavily rely on through imports.
The company has established a manufacturing pilot line and so far received customer purchase orders worth more than 20 million yuan.
The Shaanxi government has done well in promoting research/industry cooperation in technology innovation, which is the main attraction that induces overseas high-tech talent to start their businesses in the less-developed inland province, he said.
"My mentor, Professor Hou Xun, an academician at the Chinese Academy of Sciences, has always encouraged me to re-establish my career in China," Yun said.
"Most important, my knowledge and skills are badly needed here."
hedan@chinadaily.com.cn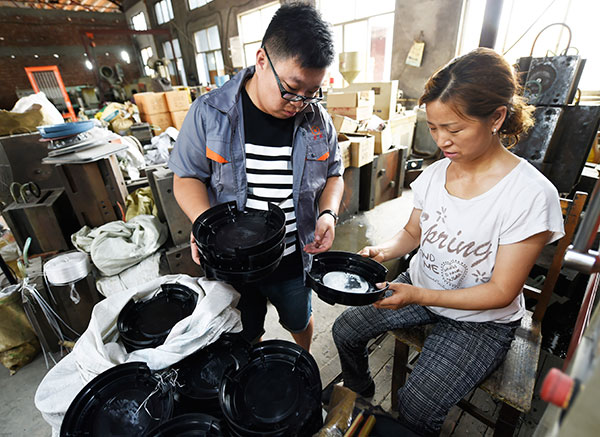 Yao Liyun, founder of Gutian Xinwotu Fruit and Vegetable Cooperative, who got her doctorate in the United Kingdom, talks with a grower of edible fungi in Gutian county, Fujian province. Wei Peiquan / Xinhua